November 8th, 2010 by
Benj Edwards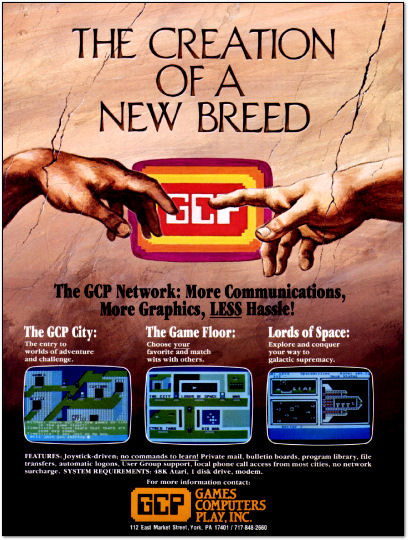 "System Requirements: 48k Atari, 1 disk drive, modem"
You're looking at an ad for what may have been the world's first multiplayer graphical online gaming service, Games Computers Play (1985). It may also have been the world's first graphical multi-user environment, as it predated the Lucasfilm Habitat beta test for the C64 (1986) by six months or more.
I don't know else much about this Atari 8-bit-only service beside what can be gleaned from the advertisement above, a 1985 article in Antic magazine, and this thread over at AtariAge.
One of the posters in the forum thread linked above mentioned that he/she found the creators of the service, whom I'd love to talk to myself. I'm trying to get in touch with that poster, but if anyone knows anything about this service (including info about who created it) or has stories to share, please email me here.
[Update – I did get in touch with one of the creators of this service. More info to follow. ]
[ From Computer Gaming World, November-December 1985, p.20 ]
Discussion Topic of the Week: What was the first game you played with another human (or humans) over a modem?