January 24th, 2011 by
Benj Edwards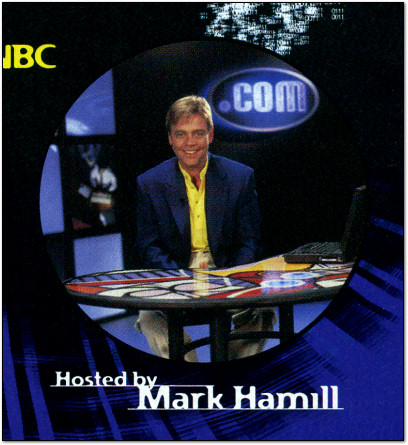 I Am Not Luke Skywalker
Back in the mid-1990s, Mark Hamill hosted a show called ".com" on CNBC. Few people remember it. I don't think I'd heard of it until I stumbled across the ad scanned above a few months ago.
You may be able to eke out a few more details by digging through the show's official website on the Internet Archive. That's where I found this bio of Mark Hamill himself:
Mark Hamill is the host of the ".com" television series.

He also stars as Col. Christopher Blair in ORIGIN System's award-winning interactive computer action series Wing Commander IV: The Price of Freedom. Mark is best known for his role as Luke Skywalker in one of the most popular and successful movie trilogy of all time, the Star Wars saga. Most recently, Hamill has been heard as the voice of the Joker in both the Batman animated television series and the theatrical animated feature Batman: Mask of the Phantasm.
The Internet Archive is also where I found this photo of Mark Hamill hosting a show called "My Kids," which was produced by the same company. I honestly don't know any more than that.
This looks like a good job for the VC&G reader-sleuths to put together a more complete history of this long-forgotten TV show. Anyone up for the task?
[ From PC World, November 1997, p.97 ]
Discussion Topic of the Week: Did you ever see the ".com" TV show while it was on the air? Tell us your memories of it.