January 31st, 2011 by
Benj Edwards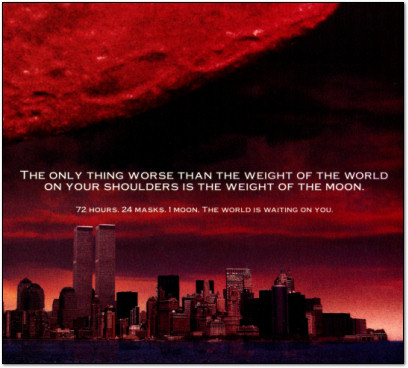 Weight of moon > weight of world? Termina must be a small place.
(click image above to see full ad)
Despite what you see above, the game featured in this double page advertisement is not set in New York City. It's set in Termina, a weird place where kids wear lots of masks to get things done. And like Groundhog Day, time keeps looping until you do everything just so. The perpetual déjà  vu can be frustrating — nay, maddening. But it may also be genius, and a small subset of loyal Zelda fans call The Legend of Zelda: Majora's Mask one of the best titles in the series.
It also turned ten years old last November. Happy birthday!
P.S. This scan marks five years of Retro Scan of the Week. Read more about it here.
[ From Electronic Gaming Monthly, November 2000, p.8-9 ]
Discussion Topic of the Week: How do you feel Majora's Mask ranks in the pantheon of Zelda games? Near the top? Near the bottom?