February 7th, 2011 by
Benj Edwards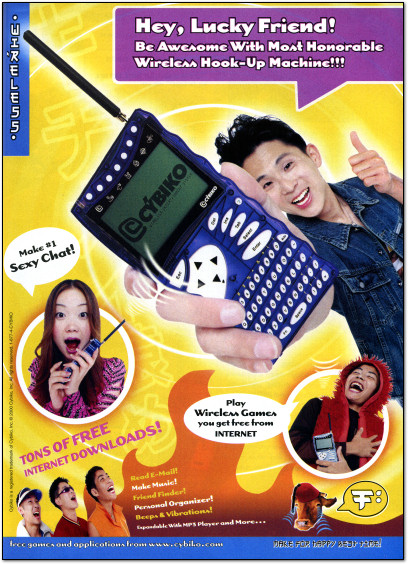 A Cybiko ad spoofing stereotypical Japanese zaniness.
The Cybiko was a bizarre handheld device of mixed lineage: I'd call it 1/3 game console and 2/3 handheld PC. It sought to be a PDA for kids, so it incorporated both gaming and organizer software. It also included a very novel feature at the time: wireless connectivity. Cybiko units could send each other text-based messages, share software, and play games via a built-in radio transmitter.
Owners could hook up the Cybiko to their PC to download new software from the Internet. Cybiko, Inc. encouraged homebrew development for the machine in either C or CyBasic (a BASIC variant), which helped maintain popular interest in Cybiko for a few years longer than it would have otherwise.
Despite those efforts, Cybiko was never particularly successful. The company tried again with the Cybiko Xtreme in 2001. No such luck there either.
A Handful of Drawbacks
I picked up one of the original "Classic" models on clearance back in the day. Its biggest drawbacks were the dreadfully sluggish speed of the software interface, the heavily-ghosting greyscale LCD screen, and the bizarre layout of the buttons and directional pad on the unit. Oddly, the Cybiko included a pull-out stylus to help you press its tiny QWERTY keyboard buttons. Also, I remember it being very tricky to hook the Cybiko to your PC to get new software.
I later picked up a revision 2 Cybiko Classic with the MP3 Player add-on at a Hamfest. I never did much with the gadgets, though. Cybikos included a rechargable battery — I remember seeing one leaking already a few years ago. So if you have one, take out the battery before it ruins your unit.
[ From Electronic Gaming Monthly, November 2000, p.87 ]
Discussion Topic of the Week: Have you ever owned or used a Cybiko? What did you think about it?