June 6th, 2011 by
Benj Edwards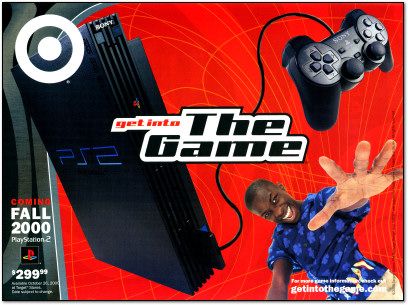 GET INTO THE GAME. YEEEEAAAAHHH
By golly. Has it really been 11 years since the PlayStation 2 came out? Sony launched the massively successful console in Japan on March 4th, 2000, making the platform one of the longest-lived in history. Games are still being made for it (one of its most recent releases, WWE All Stars, landed in March of this year), and the console hardware is still in production.
During this week of E3, which will include a new console announcement, it's interesting to look back a decade to the launch of this massively successful machine. The early ad for the PS2 you see above was published not by Sony, but by Target to promote its availability in its stores. It just goes to show how closely hardware vendors and retailers must work together to make every new video game console launch a success.
[ From Electronic Gaming Monthly, November 2000, p.13 ]
Discussion Topic of the Week: When did you first get a PlayStation 2? What was the first game you bought for it?