September 5th, 2011 by
Benj Edwards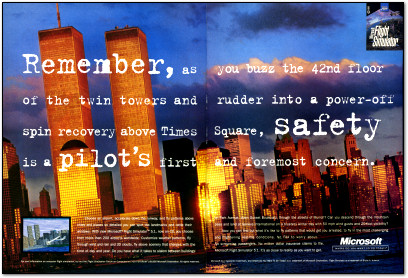 "Safety is a pilot's first and foremost concern."
The most defining cultural, political, and national moment of my generation happened ten years ago next Sunday. You know what it is. The pain from that day is still fresh enough in my mind that I barely want to talk about it.
I recently ran across this advertisement for Microsoft Flight Simulator 5.1 in a 1995 issue of ComputerLife magazine. It gave me chills when I first saw it — as almost anything involving airplanes and the World Trade Center does for most Americans. The ad encourages the reader to fly safely when navigating close to the Twin Towers.
The fact that Microsoft designed an ad like this means nothing, of course — I'm not implying any kind of supernatural foresight embedded into a 1995 computer game advertisement. It's just creepy in retrospect. The World Trade Center's stature as one of the world's tallest and most famous landmark buildings inevitably teased human minds to make dramatic juxtapositions like this — sometimes harmlessly, and sometimes — one time — with devastating results.
[ From ComputerLife, October 1995, p.5 ]
Discussion Topic of the Week: Where were you when you first heard about the September 11th, 2001 attacks? Did they change your computer or video game habits in any way?