February 27th, 2012 by
Benj Edwards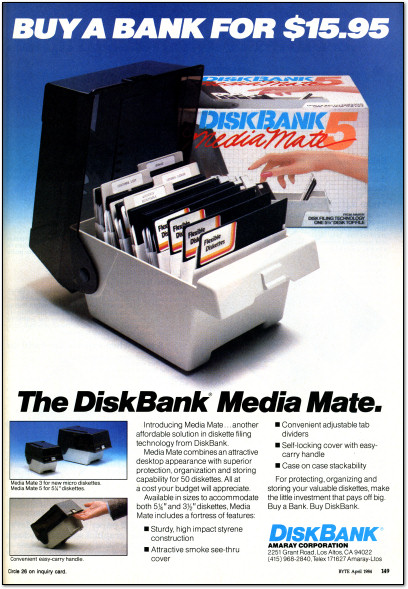 The Amaray Corporation DiskBank Media Mate
It's not every day that I stop and think about floppy diskette storage boxes. I never had a favorite brand of them, but I did find fault with many of the designs I encountered over the years. My least favorite thing about the DiskBank-stye box is if you pick it up by its "handle" (as illustrated here) without locking or properly latching the lid, the lid flops open and you end up with a pile of floppies on the floor.
It would be interesting to catalog and put together a historical timeline of floppy disk box brands…but then again, I don't see myself doing that any time soon.
[ From BYTE Magazine, April 1984, p.149 ]
Discussion Topic of the Week: What kind of containers do (or did) you use to store your floppy disks?