April 15th, 2012 by
Benj Edwards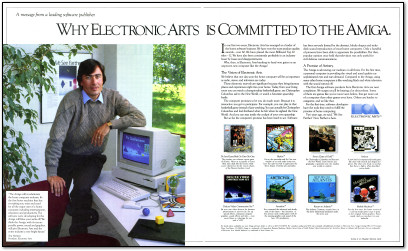 1980s breakthroughs in workplace ergonomics led to this optimal seating position.
Long before the gaming public considered Electronic Arts the worst company in America, EA made its name as a creative haven that valued its talent.
No, really.
EA went out of its way to convey a developer-friendly image in its early years, prominently featuring designers' names in the company's box art and marketing materials. Gamers bought into it, in large part, because EA developed and published some of the most advanced and highly regarded early home computer games of their time (think Archon, M.U.L.E., The Seven Cities of Gold, etc.). EA must have been doing something right.
Of course, things changed over the years. From a personal standpoint, I remember when public sentiment seemed to turn against Electronic Arts in the mid-1990s after it acquired legendary development house Origin (most famous for the Ultima series) and proceeded to drive it directly into the ground. Origin would not be the last highly regarded game development firm to suffer this fate at the hands of EA.

—
But I'm getting ahead of myself. I really just wanted to show you this amazing two-page ad, which I found in the premiere issue of Amiga World from 1985. It trumpets, in that "begged-by-Commodore" kind of way, Electronic Arts' commitment to the Amiga platform.
To the left, we see Trip Hawkins, founder and then-president of Electronic Arts, half-sitting on a table next to an Amiga 1000 with EA's slogan of the time, "We See Farther," written on the screen.
To the right, the crisp marketing copy lays out EA's vision for the future of interactive games, and it does indeed seem far-thinking. This vision, which appears to have originated with Hawkins himself, steered the company in a very successful direction right from the start.
It made sense for EA to throw its weight behind the Amiga, a machine which truly impressed technologically at the time. But as you may know, the Amiga platform wasn't nearly as successful as Commodore would have liked. In fact, we here in the U.S. consider it a dud, although it fared much better in Europe. On either continent, the Amiga faced an uphill battle against a Japanese-dominated home console market on one hand and the entrenched IBM PC clone universe on the other. It lost both encounters.
So here we 27 years later. Commodore ceased to exist long ago (in its original form), but Electronic Arts lives on. The name "Commodore" looms large in our collective memory as a positive force, while everyone loves to hate Electronic Arts. The difference in the perception of these two companies echoes how we, as consumers, regard unbridled success in the tech industry — and how we can't resist the lure of the legendary dead.
[ From Amiga World, Premiere Issue 1985, p.6-7 ]
Discussion Topic of the Week: When did you first start disliking Electronic Arts? Or do you love them?