May 11th, 2012 by
Benj Edwards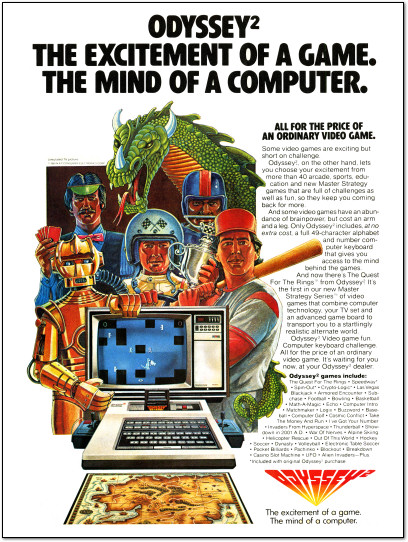 The Excitement of a Game. The Mind of a Computer. The Soul of an Edsel.
The Odyssey 2, released in 1978, ranks among the most misunderstood video game consoles. It boasted more CPU intelligence than the Atari 2600, but it lacked the licensed arcade titles and third-party developers to make it competitive over the long run. While its games were mostly clones of popular games on other systems, the console played host to a few interesting curiosities like The Voice, a speech synthesis module, and The Quest for the Rings, a beautiful board game that tied into the Odyssey 2 console.
The Odyssey 2 also included a built-in keyboard (a very poor membrane model), which I believe might be the only time such a thing has happened — unless you count certain home PCs as video game consoles.
[ From TIME, November 2, 1981, p.24 ]
Discussion Topic of the Week: What's your favorite Odyssey 2 game? If you have one, that is.
—
If you liked this, check out these related Retro Scans: