June 11th, 2012 by
Benj Edwards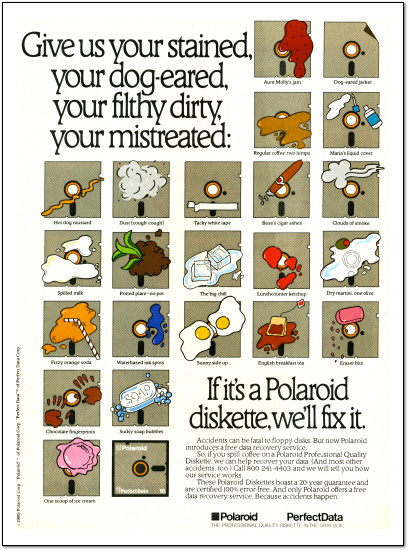 A similar phrase adorns a plaque inside the base of the Statue of Liberty.
In this ad for Polaroid PerfectData disks, Polaroid mentions a free data recovery service for damaged floppies. I wonder what tools they used to recover the data; that would be very interesting to look into. Also, I wonder whether anyone ever took Polaroid up on the company's offer to rescue their data. If anyone out there knows more about this, by all means, leave a comment.
Make sure you take note of the "20-year guarantee" mentioned in this ad — then read Why History Needs Software Piracy.
[ From TIME, May 6th, 1985, p.B3 ]
Discussion Topic of the Week: What's the worst thing that has ever happened to your computer storage media?