September 17th, 2012 by
Benj Edwards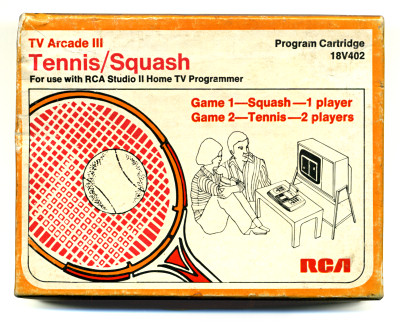 A stunningly realistic RCA Studio II gameplay session.
Here's the box cover of TV Arcade III: Tennis/Squash for the for the RCA Studio II (1977), the world's second ROM cartridge-based video game console.
The early console, which featured only two numeric keypads for control, was such a dog that I named it the "worst video game console of all time" in a 2009 PC World slideshow. Three years later, I stand by that assessment.
You may be asking yourself why RCA prefaced the game title with "TV Arcade III." Well, silly, that's because it was part of a sequence of "TV Arcade" games for the RCA Studio II that started with "I" and ended with "IV." That's exactly, I might add, how the ancient Romans would have labeled their video games.
[ From RCA Tennis/Squash Box, circa 1977, cover ]
Discussion Topic of the Week: Have you ever played an RCA Studio II? What did you think?