October 23rd, 2012 by
Benj Edwards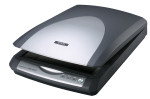 As a small administrative note, I'd like to mention that the scanner I've used for our Retro Scan of the Week column since its inception in 2006 crapped out on October 15th, 2012.
It up and died. The scanning head got stuck a few times, then the scans started returning blank white images. It's the digital equivalent to coughing up blood.
I've used the scanner, an Epson Perfection 2480 Photo, to scan thousands upon thousands of images, so it's amazing it has lasted this long. It would be amusing to see how many miles the scanning mechanism has traveled since I first received the scanner as a gift from my dad in 2004 or 2005.
I might be able to fix the unit, but I thought of a better solution. My father happened to have the exact same scanner model, which he hasn't used in many years. I picked it up on Sunday, dropped it in place of the old scanner, and it's like nothing has changed. So Retro Scan of the Week is saved.
Of course, new flatbed scanners cost about $50 these days, so it may be time for an upgrade. I'll think about it, but for now, the Epson Perfection 2480 Photo rides again!