December 3rd, 2012 by
Benj Edwards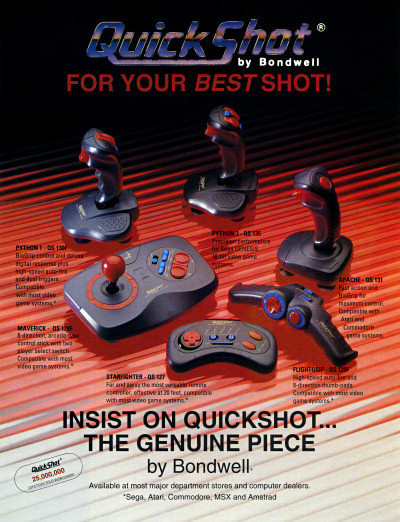 INSIST ON QUICKSHOT! THE GENUINE PIECE!!!
I own a few QuickShot joysticks, but I don't believe I've used any of these particular models. Third-party console controllers weren't all that popular in the age of the NES (relative to the 2600 days, at least), likely because the NES's own pads (and the NES Advantage and Max) were so good to begin with. Same with the Genesis and Super NES. That fact alone probably killed a few third party video game peripheral companies that were hanging on from the Atari 2600 era, although the QuickShot brand lived on until the late 1990s.
[ From Video Games and Computer Entertainment, August 1991, p.21 ]
Discussion Topic of the Week: Did/do you commonly use third-party controllers for your classic video game systems? Which one is your favorite?