December 17th, 2012 by
Benj Edwards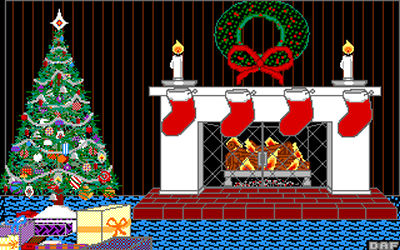 Click to see other views of this image: [ Original Size ] [ 2X Zoom ] [ 3X Zoom ]
Among the few GIF files I saved in the early 1990s (outside of those uploaded to by BBS), this warm, inviting Christmas scene remains one of my favorites.
In the image, we see a living room with a roaring fireplace bedecked with four Christmas stockings, a richly ornamented Christmas tree presiding over a large pile of presents, and a holly wreath over the mantle. Two candles flickering above the fireplace add an extra detail that completes the picture of a perfect holiday scene.
As the years have passed, I have forgotten where I acquired this GIF file, labeled XMASTR.GIF. I revisit this image every now and then, and I always wonder about its origins. Now is as good a time as any to look into them.
My first clue is the file date. After poking around one of my old hard drives (from which I recovered this GIF), it looks like the GIF's December 11, 1994 date is likely the date I downloaded this image from CompuServe or a BBS. Since it wasn't sorted with my other BBS files, I think I got it from CompuServe.
We can discern more about its origins by examining the color depth (number of bits per pixel) and color resolution (number of possible colors in the image palette). I peeked into the GIF file's header information with a hex editor and discovered that it used a 512 color palette. As it turns out, a 320×200 image in 16-colors with a 512 color palette is more or less unique to the Atari 520/1040STf platform.
That means that the artist probably created this image during the heyday of the Atari ST, which I would roughly estimate to be from 1985-1990. Either way, we have a hard limit of 1985 at the earliest (the date of the Atari 520 ST's introduction) and 1994 at the latest (from the file date).
Along the way — some time after 1987 (the creation year of the first GIF standard) — someone converted an original Atari ST image format into GIF and uploaded it to whatever service I downloaded it from (likely CompuServe).
We also have are the initials of the artist — "DAF" — in the lower right corner of the image. Through Google searches, I found Atari ST-related posts by a computer scientist named Daniel A. Ford (initials D.A.F.) from a 1987 Usenet archive. On a whim, I emailed him just a few days ago and asked if he is the author of the image. He said no.
So for now I've hit a dead end. Perhaps the identity of DAF will emerge some day. Even if it doesn't, we can still enjoy this festive holiday scene.
[ Wondering what a GIF is? Read the introduction to this column. ]
Retro GIF of the Week Fact Box
Source File Name:
XMASTR.GIF
Source File Date:
December 11, 1994
Source File Format:
GIF – 87a (non-interlaced)
Dimensions:
320 x 200 pixels
Color Depth
(bits per pixel):
4-bit (16 color)
Color Resolution
(palette size):
9-bit (512 colors)
Origin Platform:
Atari ST
Derived From:
Unknown
Creation Date:
1985 or later, likely late 1980s
Artist:
DAF
If you know more about the origin of this image, please leave a comment.