April 4th, 2006 by
Benj Edwards

Do you want hundreds of different games of diverse genres that span video and computer gaming history available for unlimited play on your PC, 24 hours a day, without the hassle of having to set up eleven different game and computer systems? So do I. But in this case, you're going to have to pay $10 a month to Ted Turner for the privilege. And there's another catch — the "unlimited" games have the darnedest habit of magically disappearing at the blink of an eye once you stop paying your monthly gaming tariff. Hmm. Sounds pretty limited to me.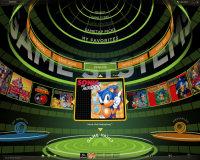 Thus is the state of the GameTap Broadband Entertainment Network, the world's first large-scale legal attempt to make a rerun channel for video games. It's an admirable goal that is pulled off relatively effectively with their candy-coated software wrapper that wrangles together 400 disparate games from the late 1970s to the present into one virtual gameplay arena. The interface is clear-cut and simple to understand, allowing you to easily browse through and select different games you want to play (one at a time, of course). Upon selecting a game, you're presented with a game overview, some history, the choice of some game-specific bonus information, and instructions on how to play. Then, if you choose to continue, the game is downloaded to your PC and…you play. Download times range from a few minutes or less for the simple games to over 30 minutes for the modern PC Windows titles. Don't expect to make copies of the games you've downloaded, of course, because every downloaded game is chopped into pieces on your hard drive and likely encrypted, rendered useless unless played through the GameTap client itself. But if you just wanted to do that, you would have already (likely illegally) downloaded the game already, right? You're here for the experience and the convenience of having everything accessible and playable in one place.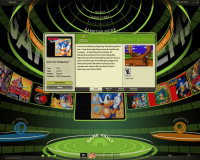 My experience with actually playing the games was a relatively positive one. All of the games I downloaded played smoothly and "as intended," replicating — or dare I say emulating (…that's a joke) — the game perfectly as if it were being played on the actual game system. I tried at least two games from every system offered, from the Atari 2600 right up to a Dreamcast title and even modern Windows PC games. I picked many games that I have played on the real systems to compare their authenticity, and yes, they are indeed true emulations. GameTap also includes a staggering number of Windows and MS-DOS games (>114), which seems kinda like getting off easy at first, but it turns out to be one of GameTap's strongest features. While running homebrewed emulators of old game consoles (Genesis, NES, etc.) on your PC is relatively easy and consistent, finding the right parameters and emulator settings to run old Windows or DOS games on a modern computer can be extremely maddening. GameTap completely erases all that hassle, as each game you choose just works.
Let's take a look at game selection on GameTap. On March 10th, 2006, their game count was as follows:
Arcade: 65 games
Atari 2600: 82 games
Commodore 64: 42 games
DOS: 22 games
Dreamcast: 3 games
Game Gear: 7 games
Genesis: 55 games
Intellivision: 8 games
Sega 32x: 6 games
Master System: 13 games
Windows: 92 games

Total: 395 games
The most glaring omissions start with "N." Nintendo, that is — black gold, Texas tea. If they had old Nintendo games (NES, SNES, Game Boy, N64) on there, GameTap would probably be wildly successful. Ha — like the big N is going to let that happen on the eve of their Revolution release (which, for those of you who don't know, will supposedly allow players to buy, download, and play old Nintendo games from systems past on the console). Instead, GameTap is stuck with a lot of second-rate titles in the console department, save for Genesis notables like the Sonic the Hedgehog series, the Phantasy Star series, and Landstalker. Oh, and whee — they have Atari 2600 and Intellivision games as well, which have about as much modern play value as a light switch. Don't get me wrong; I love the classics or I wouldn't run this site. But I challenge you to go back and pull out your old Atari 2600 collection and measure exactly how long you spend playing each game. I wouldn't be surprised if your answer was less than five minutes per title (yes, even for you old fogies out there). But hey, at least they have Yar's Revenge.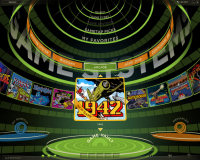 On the other side of the fence is their Arcade selection, which is replete with classics, including the obligatory Namco arcade hits (Ms. Pac-Man, Galaga, Dig Dug, and Pac-Man, for example), which, incidentally, are supposedly the most played titles on the whole GameTap service (Source: some magazine I forgot, probably EGM). However, you can currently buy a $15 TV game device at a local drug store that will play the same games (with pretty good accuracy) as much as you want for as long as the unit holds up. GameTap also has lots of Sega arcade games available. Sega of America and Ted Turner seem to be bosom buddies — a relationship that probably started with their ambitious Sega Channel in the mid-90s.
Last, but not least, I can't wrap up my overview of GameTap's game selection without mentioning a distinctively cool part of their Windows and DOS library: the oft-neglected genres of adventure and RPG games. Classics like Zork, the Might and Magic series, and even all the Myst games, are refreshingly available for play on the service.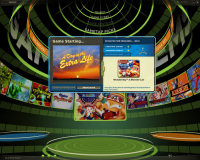 But who cares about games? Sensing correctly that GameTap needed added unique value for the service to work in the face of rampant illegal game downloads and emulation, they went out of their way to create game histories (limited and sometimes inaccurate), interviews with game creators, cheesy year flash-backs ("In 1982 everybody ate Rubik's Cubes for breakfast"), and hip (read: terrible) music and poetry homages to the games. They also force you to watch loading-screen comedy sketches ("A Day in the Extra Life"), which are quite frankly horrible and unfunny. However, it is mighty entertaining to watch modern-style promo videos for old PC games (like the original Might and Magic), with an enthusiastic announcer selling them to the audience seriously as if they were the coolest games ever created. That's about the only thing that really works in their added content department, though.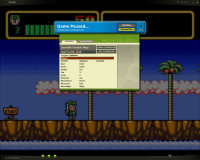 Signing up to GameTap is easy; you can do it online with a credit card. They give you a free two-week trial period, then a $9.95/month (US) subscription fee after that. Canceling is a bit harder, however (gee, big surprise). You have to call their 1-800 customer service number and ask a real, possibly smelly biological person on the other end to cancel your account. Of course, they're going to try to stop you, tempting you with lines like "Are you sure, man? 'Cause we'll be adding hot new titles like Sphere Zone II and Battle Blade Buddies to the service soon." Upon declining again, they offer you a free "comp month" to "keep you in the game." At this point in my own cancellation process, I almost shouted, "THAT'S RIGHT! KEEP ME IN THE GAME, BRUTHA!" while virtually chest-bumping the operator. But I've never been known for "staying in the game" — I hated soccer practice as a kid and always wanted to go home early.
If you can't stomach the $10 monthly fee to play threateningly vaporous but addictively accessible games, you could always build yourself a makeshift legal alternative to GameTap in the form of a UGS, stocked games that you already own or have otherwise legally purchased or acquired. But without the right front-end software for the job, the convenience of GameTap just isn't there. And convenience is exactly what you pay for with this service. GameTap is like fast food for games. If you need a quick fix, drive-thru GameTap and order a Double Gameburger. If you're looking for a more filling, longer-lasting meal, you'll have to cook for yourself. At $9.95/month, it's tempting to eat out every meal. But for now, I think I'll keep making my own burgers.
[Update (06/12/2007): For a new look at GameTap's customer service, check out this article on VC&G. ]
The Skinny: GameTap Broadband Entertainment Network
Good Features:
Large, diverse selection of games. Good client interface. Incredible convenience and ease-of-use regarding diverse game selection. Legal way to easily experience older games. Joystick support.
Bad Features:
Lackluster console game selection overall (no Nintendo). "Added value" content (videos, music, etc.) usually sucks. Games "disappear" when you stop paying monthly fee (obvious, but I had to say it).
VC Rating:
(10 Being Best)
[ 7.5 out of 10 ] Shiny Marbles
Rating Notice:

This service was reviewed on April 4th, 2006. Due to the dynamic nature of the service, its quality may have improved or degraded since then.