April 9th, 2013 by
Benj Edwards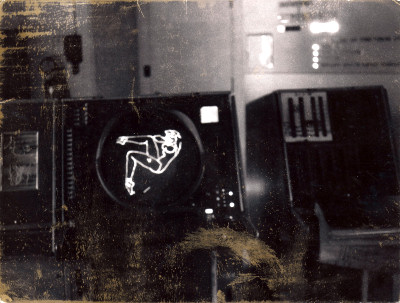 Back in January, I wrote an article about the world's earliest known figurative computer art for The Atlantic. It it is also likely the world's first digital computer artwork as well.
(Check out this timeline of computer art history to get an idea where this piece fits in.)
The only known physical record of this circa 1956-58 pin-up diagnostic, which ran on SAGE computer systems, comes from a Polaroid photograph snapped by U.S. airman Lawrence A. Tipton in early 1959. Tipton retains the original print, although it will likely go to a museum soon (more on that when it happens).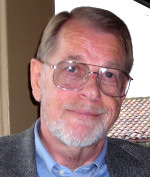 The digital image of the photo used in my Atlantic article was provided by Tipton to a SAGE historian over a decade ago. It was previously the highest-quality version of the photo I had access to, and that posed a few problems. Someone (likely Tipton himself) had hastily retouched the image, removing various scratches, and it was not presented in a high enough resolution to examine in detail.
To remedy that, Tipton was kind enough to make a high resolution scan of the original print and mail it to me on CD-ROM back in February. With his permission, I am providing the high-resolution scan of the pin-up console photo unretouched and unmodified below so that (a) others may learn from it and (b) to ensure that our only record of this important achievement in art is not lost.
Quick Photo Facts / Image Download
In this age of the Internet, I know some people are likely to want to grab the photo and run. To help provide historical context for those folks in a hurry, I've created the mini-guide below.
Photographer: Airman First Class Lawrence A. Tipton (U.S. Air Force), 21 years old when the photo was taken
Place: Fort Lee Air Force Station, Virginia, USA
Photo Date: Early 1959
Subject: Risque female pin-up diagnostic program running on a IBM AN/FSQ-7 computer, part of the United States' SAGE defense system. The image is displayed as vector line-art on an OA-1008/FSQ situation display console.
Back Story: Read this article
Credit: Lawrence A. Tipton
Got that? Ok, now you can download the photo here:
Conditions on Using the Photo
Tipton has not specified the rights or license he wishes to assign this photo, but I think it's safe to assume that if you plan to republish it for educational or non-commercial purposes, you may do so without seeking additional permission from Tipton.
If you wish to republish it for some obvious commercial use, it's probably best to send me an email first.
Regardless of how or why you republish the image, please be sure to credit the photo to "Lawrence A. Tipton."
You can also tuck in a special thanks to Benj Edwards or Vintage Computing and Gaming if you want. It's not required, but I wouldn't mind. Hope you enjoy the photo.
Update (4/11/2013) on Image Quality
I recently addressed the question of JPEG vs. TIFF and artifacts in the comments below. I'll quote what I said here so that others don't miss it.
The artifacts you see on the 8699 x 6788 full-size JPEG are all present on the full-sized TIFF file that Tipton sent me. It suggests to me that he scanned the print at a DPI beyond the optical capability of his scanner, possibly with other noise-reduction filters on as well.

Upon asking Tipton about this, he assured me it was the highest quality image he could produce (that is, it's the highest quality he knew how to produce with his equipment). So it is the best we have until an institution can receive the print (which it will) and do an archival quality scan.

I'm mostly putting this up here now because many people have asked me for a higher quality version of the image.

As far as JPEG for TIFF in this case, if you compare my high-quality, very-low-compression JPEG and the TIFF file 1:1, you cannot tell the difference with the naked eye. I know it's not archival, but the source is not archival quality to begin with and is at a resolution beyond what is needed to distinguish details in the image. For now I'll try to take it easy on my bandwidth by providing the 15 MB JPEG for the merely curious. If anyone wants the original TIFF (89 MB or so), send me an email.