April 22nd, 2013 by
Benj Edwards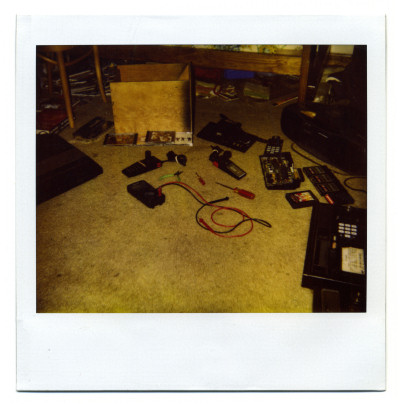 The carpet pretty much looked like that even when it was clean.
Here's a retro-flavored Polaroid instant photo I took of my bedroom floor some point in 1995. I was 13 or 14 at the time, and I had just received a stack of Beatles CDs (upper center-left) the previous Christmas — along with my first CD player, integrated in boombox form, which can be seen seen in the upper right portion of the photo.
But I'm not posting this photo because of Beatles CDs. On the floor sit a number of retrogaming consoles and accessories: to the left is an Atari 5200 console, and in the lower right you can see a ColecoVision and the corner of an Intellivision. There are also a few Atari joysticks, a copy of Yars' Revenge for the 2600, and three copies of Intellivision Donkey Kong.
If I recall correctly, that wooden drawer sitting near the upper-left of the photo held my Atari 2600 games. I loved the smell of old wood that gently met my nose whenever I sought one of my classic cartridges. The drawer came from a desk that my grandfather bought for my dad when he was a kid in the early 1950s. By the time this photo was taken, the desk was mostly apart, but I had a couple drawer stacks that one could still use as a desk if you placed a board or uncut door across them.
You can also see that I was repairing or tinkering with a ColecoVision Expansion Module #1, which allowed ColecoVision owners to play Atari 2600 games using the ColecoVision as a host. I use that biology metaphor because the Module, an almost fully-contained 2600 clone, latched on like an electronic parasite to the front of the ColecoVision, stealing that console's power and video connection in the service of its goals. You didn't even use the ColecoVision's controller ports — the Module had its own dedicated sockets on the front.
Something about my Module #1 didn't work, so I guess I was troubleshooting it, which is why it's apart on the floor (also notice the module's metal RF shield in the upper-left near the drawer). I bet it was just some dirty switches or cartridge contacts, because I do think I got it working.
It's amazing what one photo can tell you. There are stories for every item you can see in the print, but I guess I'll leave it at that.
Well, there is one last detail: that large messy pile of magazines on my bed was my computer and video game magazine collection at the time. This was an age before the invention of bookshelves, you see.
[ From a Polaroid instant print taken by Benj Edwards, circa 1995 ]
Discussion Topic of the Week: Have you ever taken apart a video game system to fix it? Tell us the story.