Monday, November 30th, 2015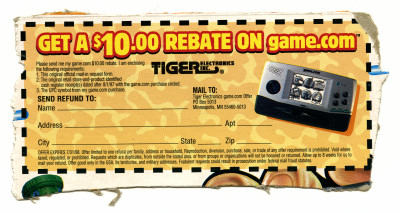 I need to start a historical coupon collection
Apparently I ripped this Tiger Game.com $10 rebate coupon off the back of some unknown cereal box around 1997 or 1998. I found it recently in the papers cleaned out from my childhood desk.
The Tiger Game.com seemed like a neat machine when I first read about it — with its touch screen and potential for "Internet access" — but it ended up being a major let-down.
I did eventually get a Game.Com — I could have sworn I got it on clearance at K-Mart or Toys'R'Us (but I didn't mention that in this earlier post)…or maybe it was a birthday present from my dad in 1998. Despite buying many Game.com games over the next few years on clearance, I pretty much only played the built-in Solitaire game on it. But that was fun enough.
I remember thinking something along the lines of "For the price I paid for it, it's a pretty good solitaire machine." So maybe I did get my first Game.com on clearance. It's sad that my memory is fading like this. I can typically remember how and when I got everything in my collection. I will have to look through my papers later and see if I have a receipt for it. That could shed some light on things.
See my previous Retro Scan posts about the Game.com (listed below) for more of my stories about this odd console. It's the only video game console I ever used to call a BBS. Now that's odd.
[ From a random cereal box, circa 1997-1998 ]
Discussion Topic of the Week: Did you buy a Tiger Game.Com in the 1990s? What did you think about it?
—
See Also:
Tiger Game.com (RSOTW, 2010)
Game.com Internet Module (RSOTW, 2012)