Monday, April 8th, 2013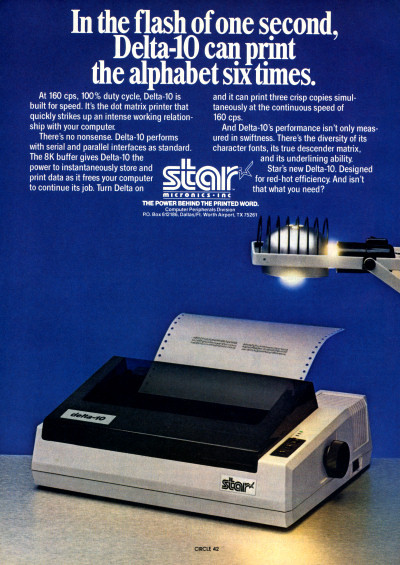 The Star Micronics Delta-10 Dot Matrix Printer: Mouse with Machine Gun
My family owned this exact printer. In fact, I think it's still sitting in my parents' attic as we speak. If I'm not mistaken, we used it with our Apple IIe system — the one my dad built from a bare circuit board and a set of cloned ROM chips (much like the one in this 2006 VC&G post).
It's probably the first printer I ever saw in action, likely before I could even walk. I can recall crawling under our computer desk (the printer was on the floor beneath it for some reason) and watching it print out whimsical banners and calendars from a program like Broderbund's The Print Shop.
But what I remember most about it, of course, was the sound it made: like a screeching robot mouse spraying lead into tractor-feed paper with a tiny machine gun. Like any dot matrix printer, once you hear one in action, the sound will never leave you.
Those were the days.
Of course, I was still using a dot matrix printer until the early 1990s, so I am pretty much scarred for life. Mice everywhere.
[ From Personal Computing, November 1983, p.28 ]
Discussion Topic of the Week: What was the first printer you ever owned?