Monday, January 28th, 2013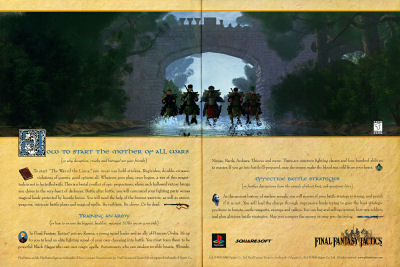 "How to Start the Mother of All Wars"
Fifteen years ago today, Square released Final Fantasy Tactics in North America for the Sony PlayStation. (It's kinda crazy, because I was going to use this scan today anyway, just by chance.)
I remember being excited when this game came out. I'm sure I read a glowing review of it in EGM and recommended it to my brother, who promptly bought it and played it on and off for the next two years. I still have Final Fantasy Tactics' music stuck in my head just from hearing him play the game so much.
The game is a strategic masterpiece, and though I have not played it to completion myself, I appreciate its depth, its music, and I absolutely love its sprite-based graphics and spell effects. The sprite-based nature of FFT alone was something to cheer at a time when most new PSX games were plagued with choppy, low-res polygonal 3D graphics.
[ From GamePro, May 1998, p.70-71 ]
Discussion Topic of the Week: In your words, what's so great about Final Fantasy Tactics?