Thursday, September 4th, 2014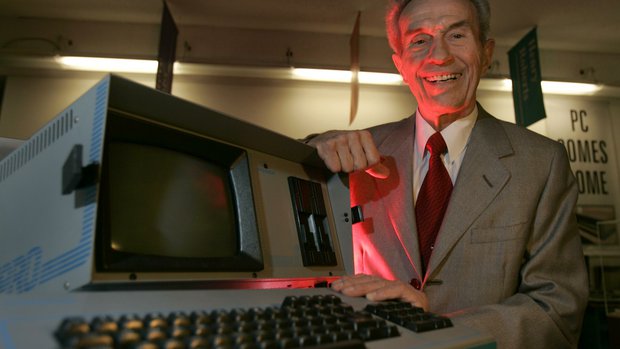 In Memoriam: Andrew Kay (1919-2014), founder of KayPro
and inventor of the digital voltmeter
The Kaypro II (1982), sold by Andrew Kay's company, was one of the earliest vintage computers I added to my collection (and my first CP/M machine) way back in the early 1990s. Its high-quality components, including its sturdy metal case, its integrated serial and parallel ports, its full-sized keyboard, and its sharp 9-inch green-screen monitor made it a joy to use. And man, it had an 80-column display, which made it a competent word processing machine even in 1994.
With everything integrated, the Kaypro II was a truly plug-and-play machine at a time when other systems required hooking up chains of various peripherals to get things done. With the KayPro II, you folded down the keyboard, plugged it into an outlet, inserted a disk, and flipped it on. It was an island oasis in a sea of endless computer cords.
Andrew Kay's achievements were great (among his other works, he invented the digital voltmeter in 1952). He will be missed.