Tuesday, February 19th, 2013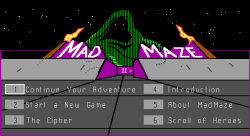 In 2006, I wrote about a version of the classic Prodigy game MadMaze that had been adapted for the web by Russell D. Brown, an electronics engineer based in Rome, New York.
Just today, a commenter on that original post (thanks Joshua) let me know that Russell Brown passed away last year on July 1st. That means his implementation of MadMaze-II is now offline.
(Please note that the original author of MadMaze, Greg Costikyan, is still alive and kicking as far as I know.)
Luckily for all of us, I asked Russel Brown back in 2011 to share his MadMaze-II code with me in case his version of the game ever went down. He complied, and I have just now set up a fresh copy of his adaptation on this web server at the following address: https://www.vintagecomputing.com/madmaze/.
The game still requires Internet Explorer 5 or up, and it seems to work in IE 9 for me. Brown programmed the game in such a way that obfuscated its function to prevent cheating (he even incorporated a copy protection scheme), so at the moment I have no idea how to successfully modify it if players find any bugs. But if you encounter any problems, please feel free to let me know, and I'll have a look.
Have fun in the maze. And may Russell Brown rest in peace.
[ Update – 01/18/2017: Thanks to the work of Brandt Horrocks, MadMaze-II now works in Google Chrome and Mozilla Firefox web browsers. Read more about it here. ]