Monday, October 10th, 2016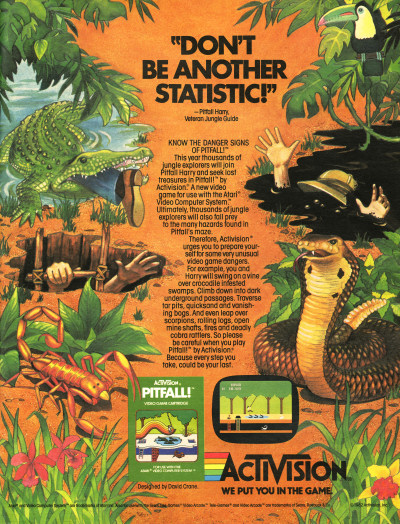 Watch out for that jungle crude oil pit
As a kid, we had an Atari 2600, and before the NES era, Pitfall! was very popular in our household. Unlike most Atari VCS games, it felt like a real adventure, and it was thrilling to directly control a tiny jumping human on the screen while avoiding crazy jungle hazards like alligators and, well, huge pits that led to nowhere.
By the way, this is the largest single-page Retro Scan I've ever scanned — it comes from a large format LIFE magazine ad. I found the magazine in my grandparents' washhouse in Texas back in the 1990s and saved it because of this ad.
If you're curious, here is the full scan jumbo size at 600 dpi (it's a 5919 x 7761 pixel 38 MB JPEG, so watch out).
[ From LIFE magazine, November 1982, p.113 ]
Discussion Topic: Which is better: Pitfall! or Pitfall II: Lost Caverns?