Tuesday, March 1st, 2016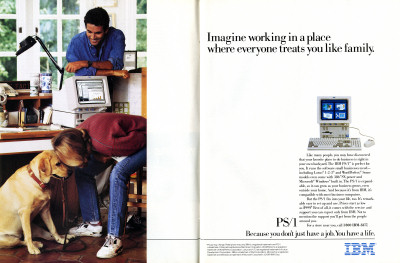 Now you'll have more time to spend with your dog
I've previously featured a later-model IBM PS/1 that also happened to be my brother's college computer, circa '94. But here we see an ad for an early — if not the first — model of the PS/1. This is back when PS/1 systems had the OS and a nifty mouse-based GUI program launcher built into ROM. They also shipped with Prodigy on the hard disk. I'm starting to really want one of these for my collection.
[ From Smithsonian, December 1991, p.20-21 ]
Discussion Topic: Has a pet ever done damage to your computer or game system? Tell us about it.