Monday, November 2nd, 2015
Ten years ago today, I posted my first entry on Vintage Computing and Gaming. It was a long, rambling piece about my personal history with computers and video games.
Ten years later, I'm still rambling. It's been fun.
Little did I know when I started this blog how long I would be doing this, and what it would lead to. These past ten years, I have been fortunate enough to meet or interview many of my childhood heroes. I have been able to contribute, in a positive way, to the world's understanding of computer history. And I have scanned enough material to wrap around the…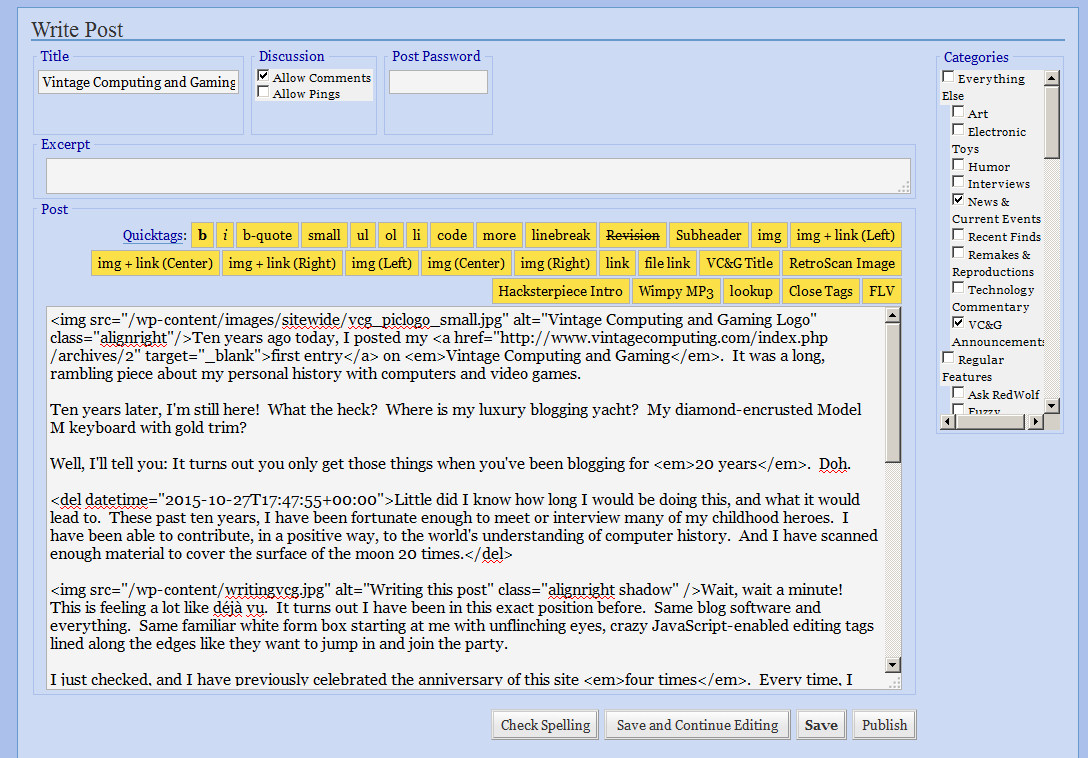 Wait a minute. I'm getting a feeling of deja vu — like I've been in this exact position before. Same blog software and everything. Same familiar white form box starting at me with unflinching eyes, yellow JavaScript-enabled editing tags lined along the edges like they want to jump in and join the party.
Oh, that's why. I just checked, and I have previously celebrated the anniversary of this site four times. Every time, I pretty much say the same thing over and over again: "Thanks, this is amazing." Here's the proof:
The History of Celebrating VC&G Anniversaries
There may be more secret VC&G anniversary celebrations hidden away within these ten years of posts for all I know. Either way, that's a lot of celebrating. To put an end to this, I propose a five year moratorium on VC&G anniversary celebrations.
…Starting next year, of course. For now, I've got something special planned.
[ Continue reading Vintage Computing and Gaming Turns Ten: Announcing 10 Days of Vintage » ]