April 14th, 2014 by
Benj Edwards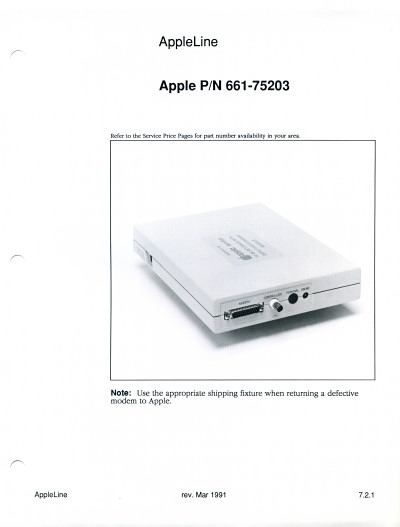 One of the only photos of this device on the Internet at present.
Almost thirty years after its introduction, the AppleLine Protocol Converter (1985) remains one of the rarest pieces of commercial hardware Apple has ever produced. It allowed a single Lisa, Mac, or Apple II to communicate with IBM mainframes using the IBM 3270 terminal protocol.
As far as I can tell, this is only the second photo of the AppleLine ever posted on the Internet (the first was in a slideshow from last year — see below). I bought this particular Apple service sheet just to share a photo of this elusive beast with you.
In 1983, Apple released a similar (and similarly rare) product, the Apple Cluster Controller, which I wrote about in this Macworld slideshow from last year. One model of the Cluster Controller allowed up to seven Apple Lisas to connect to an IBM mainframe (again, via IBM 3270), which required an intelligent protocol conversion process. As such, the Cluster Controller contained its own CPU and was a miniature computer unto itself, but technical specifications of either device are hard to track down.
If you or anyone you know owns an Apple Cluster Controller or AppleLine protocol converter, I'd love to hear from you. They are so rare I'm not sure if they even exist anymore. (Perhaps Apple only leased them out and recalled all the units when they phased them out, keeping them largely out of private hands. But this is pure speculation on my part.)
[ From AppleLine Service Sheet (Apple P/N 661-75203), rev. March 1991 (7.2.1) ]
Discussion Topic of the Week: What's the rarest Apple product you own?