August 16th, 2010 by
Benj Edwards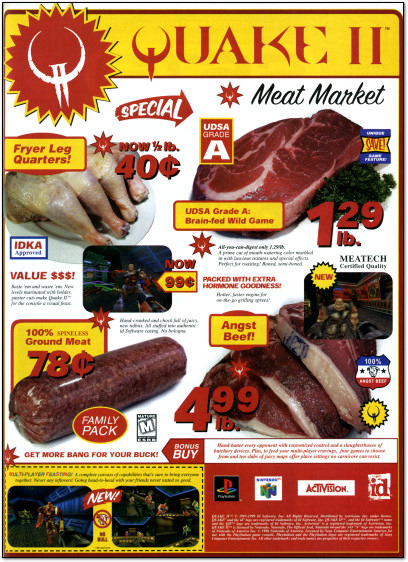 "Hand-cranked and chock full of juicy new tidbits.
All stuffed into authentic id Software casing."
Quake II will be 13 years old this December — has it been that long already? Seen here is a 1999 advertisement from EGM promoting the PlayStation and Nintendo 64 ports of the classic PC shooter. The designers of the ad chose a clever theme that parodies a grocery store circular (commonly inserted into newspapers here in the US), complete with a fake coupon and flashy pricing. Very clever, and very effective.
[ From Electronic Gaming Monthly, September 1999, p.73 ]
Discussion Topic of the Week: Let's talk Quake. Best game console version of Quake? How about Quake II?