Wednesday, April 27th, 2016
Monday, November 16th, 2015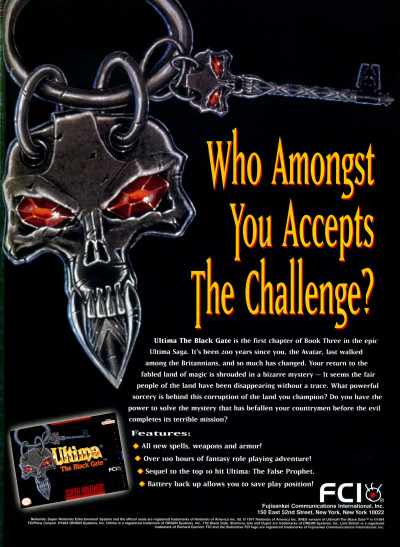 This keychain looks like it would hurt in your pocket
Here we see an ad for the Super NES version of Ultima VII: The Black Gate. Apparently, when VII received its port to Nintendo's console, its Roman numeral designation got the axe. As a result, the title became merely Ultima: The Black Gate.
I'm not a big fan of the SNES ports of the Ultima games (VI and VII). In the process of chopping things down to fit in a reasonably-sized ROM cartridge, a lot of content and features were lost (including the Roman numeral in this case). But at the same time, those ports likely gave console fans a taste of the Ultima universe that they would not have had otherwise.
As for me, I was lucky enough to originally play the Ultima games on the PC (and the Atari ST, in the case of Ultima III), so I guess I am spoiled.
[ From Electronic Gaming Monthly, November 1994, p.100]
Discussion Topic of the Week: In your opinion, what's the best console port of any Ultima game?
—
See Also:
Ultima VII Immortality Contest (RSOTW, 2007)
Ultima VI (RSOTW, 2009)
Ultima V (RSOTW, 2009)
The Savage Empire (RSOTW, 2010)
Tiny Pocket Ultima (RSOTW, 2013)
Monday, May 5th, 2014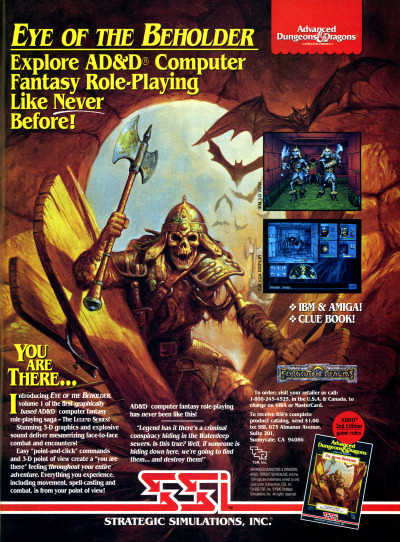 How does he see… WITHOUT EYES. More like eye of the not-beholder, am I right?
Eye of the Beholder (1991) took the formula of Dungeon Master formula and ran with it, resulting in one of the best the first-person real-time RPGs of the pre-3D era. It's definitely one of the best early VGA games for the IBM PC as well.
As far as games of this category go, I'm quite partial to Lands of Lore myself.
[ From Video Games & Computer Entertainment – January 1991, p.175]
Discussion Topic of the Week: What's your favorite first-person RPG game of the 1990s?