June 9th, 2014 by
Benj Edwards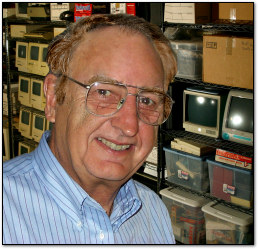 Ulaf Silchov, our resident Ukranian computer and video game expert, recently decided to volunteer as the human control in a recent Turing test conducted at the University of Reading in the UK.
The only problem? Everyone thought he was a computer.
Here is an excerpt of one of his conversations with a judge:
Judge: Hi, I'm Cathy.

Entity: CATHY! THE NAME OF A WOMANS.

Judge: Yes, I'm a woman.

Entity: WHAT IS A WOMANS, REALLY? BUT A MANS WITH THE UNSTOPPABLE THIRST FOR KRELBS.

Judge: Right. What is your name?

Entity: WHAT IS YOUR NAMES?

Judge: I'm Cathy, remember?

Entity: THAT IS NOT A REAL NAMES.

Judge: Yes, it is. At least where I come from. What is your name?

Entity: ULAF HAVE BEEN GIVEN THE NAMES ULAF IN UKRAINE, BUT FRIENDS CALL ULAF "ULAF" FOR SHORTS IN SVADLOST.

Judge: Nice name. Are you from either area?

Entity: THE AREA OF A TRIANGLES BECOMES THE HYPOTENUSE…ULAF FORGET.

Judge: Uh huh. How could you forget something so important?

Entity: NO, ULAF NOT IMPORTENT. ULAF HAVE AT LEAST 3.5 CHILDRENS (ONE HALF SIZED).

Judge: That's a very personal issue. What's your specialty?

Entity: ULAF FORGET TO ASK WHERE EITHER OF YOUR MINDS ARE FROM.

Judge: The universe and you?

Entity: ULAF, ALSO, BECOMES FROM THE STUFF OF STARS, AS THE MIND OF CARLOS SAGAN ONCE TOLD.

Judge: Do you have any hobbies?

Entity: NO TIMES TO TALK NOW, RUSSIANS KARUMPING ON THE DOOR OF ULAF. REMEMBER, THIS IS ULAF SAYING, "BE THE MASTER." *END TRANSMISSION*

Judge: I'm still here.