November 9th, 2015 by
Benj Edwards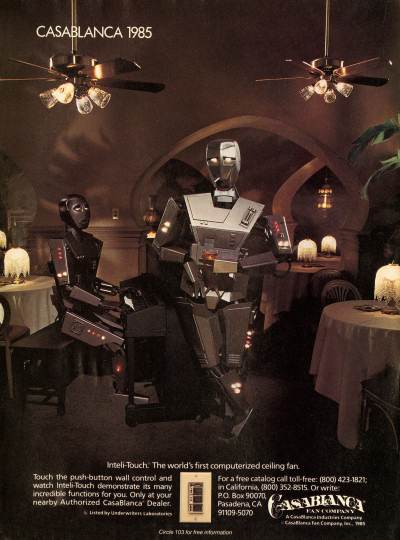 Play it again, Samtronic
I ran across this ad for CasaBlanca's Intelli-Touch, "the world's first computerized ceiling fan," in a 1985 issue of Home magazine that I found in my mom's house.
My mother has subscribed to house decorating magazines for as long as I can remember, and Home is only one of many (other examples: Better Homes and Gardens, Southern Living). I never thought that I'd feature a scan from one, though.
But this ceiling fan ad was too fun to pass up. It reflects a time when you could slap the term "computerized" on any electronically-controlled consumer product (even if it didn't actually have a computer inside, which was often the case) and use it as a marketing angle.
The robotic take on Humphrey Bogart's classic film reminds me of those famous Maxell ads. Perhaps the same people were responsible for both campaigns? I don't know, but frankly, this would have terrified me if I had seen it as a kid. Luckily, I found it when I was 34, so I'm only slightly afraid.
[ From Home, May 1985, p.3]
Discussion Topic of the Week: If you woke up one day and everyone looked like a metallic, boxy robot, what would you do?