November 8th, 2015 by
Benj Edwards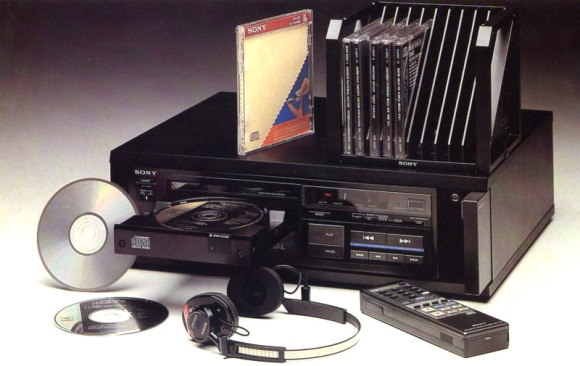 10 DAYS OF VINTAGE: Day 7
When I write articles about the history of technology — which, I'll admit, is fairly often — a few readers will sometimes say, "The author is obviously too young to remember X or Y," or "He forgot to include X." Sure, I don't know everything. But most of the time, if there is ever an omission of something notable in one of my articles, a) I know about it, and b) it was done for a good reason.
(That reason, by the way, is usually brevity — editors almost always trim things out to make the article shorter. The second most common reason is that the omitted info, while generally understood to be true, is actually false.)
When the occasion warrants it, and if time allows, I do the most exhaustive research I can manage on a topic. While browsing through my old writing files recently, I came across a fairly vivid illustration of this: a very detailed timeline of CD technology that I created while writing an feature about the 30th anniversary of the CD Player for TechHive back in 2012.
During that process, I set out to understand the history of the CD Player and the Compact Disc medium as much as possible so I could explain it with confidence. One of the best ways to do that — to cover 30+ years of history and get it all straight — is to make a timeline. So that's what I did.
The published article on TechHive includes key selections from this timeline at the bottom, but not everything. With the hope that my more detailed CD timeline might some day help future researchers, I am publishing it below, complete with sources when available.
This kind of thing makes me wonder how many other man-hours of journalistic research lay just out of reach because there is no proper context in which to share it. In this case, I'm lucky to have the VC&G Anthology series.

Timeline of Compact Disc Technology
by Benj Edwards (09/27/2012)
Year
Month
Day
Event
Source 1
Source 2
1960
5
16
Theodore Maiman creates the first functional laser at the Hughes Research Laboratory in California.
link
1962
3
21
David Paul Gregg of Minnesota Mining and Manufacturing Company files a patent for a method to record and play a video disc. His designs store an analog video signal with an electron beam.
link
link
1965
James T. Russell, a researcher at the Pacific Northwest National Laboratory, comes up with the idea of optically encoded digital music. He later receives several patents related to his inventions.
1969
Klaas Compaan, a Dutch physicist working at Philips, begins brainstorming an optical video disc that can be mass produced with a mold.
link
1969
David Paul Gregg sells his video disc patents to Philips.
link
link
1972
Philips and MCA demonstrate the Video Long Play (VLP) optical video disc to the press. This analog format is the precursor to LaserDisc.
New Scientist Sep 21, 1972, p.486
link
1974
Researchers at Philips begin work on an Audio Long Play (ALP) disc, a digital audio follow-up to the VLP that would later become the Compact Disc.
link
1977
Sony, Mitsubishi, and Hitachi demonstrate optical digital audio disc prototypes at the Tokyo Audio Fair.
1978
12
15
The first LaserDisc (initially known as "LaserVision") players and discs reach the market. LaserDisc is an analog video format stored on 30 cm diameter optical discs.
link
link
1978
Digital Audio Disc Convention Held in Tokyo. 35 manufacturers attend. Philips proposes creation of worldwide CD standard.
1979
3
8
Philips unveils a prototype 115 mm compact disc and its player during a press event in Holland.
Billboard Mar 24, 1979, p.3: link
1979
8
28
Sony and Philips agree to change the CD diameter to 120mm so 74 minutes of 16-bit stereo audio sampled at 44.1 kHz can fit on a single disc.
link
1980
6
Sony and Philips announce "Red Book" compact disc standard that defines the audio CD.
link
1981
Peter Doodson of Philips Design in the Netherlands heads up a team that designs a commercial enclosure for the CD — the jewel case.
link
1982
8
17
First ever commercial CD pressed: ABBA's The Visitors. Manufactured in Germany. Not released until later.
link
1982
10
1
The first 50 commercial CDs go on sale in Japan. Mix of classical, jazz, and Japanese and American pop music. Billy Joel's 52nd Street, commonly cited as the first CD release, is among them.
link
link
1982
10
1
First commercial CD player, Sony CDP-101, released in Japan. Retails for 168,000 yen (about $674 at 1982 exchange rates, or $1,609 in 2012 dollars).
link
link
1983
3
CD players arrive in Europe with the release of the Philips CD 100.
link
1983
3
2
Sony and Philips introduce the first CD players to the US market. 16 CDs from RCA launch alongside.
link
1983
Sony and Philips announce "Yellow Book" CD standard that defines basic CD-ROM structure, which defines how CDs can store computer data.
link
1984
9
CBS opens the first CD manufacturing plant in the US (in Terre Haute, Indiana).
link
1984
11
Sony introduces the first CD players for automobiles, the CDX-5 ($599.95 list price) and CDX-R7 ($699.95). The CDX-R7 integrates an AM/FM radio tuner.
link
Release Date: Billboard Oct 13, 1984, p.72: link
1984
11
Sony releases the first portable CD player, the CD-5. It retails for $299.95.
Release Date: Billboard Oct 13, 1984, p.72: link
Popular Science Mar 1985, p.103: link
1984
11
Sony, Philips, and other companies demonstrate the first prototype CD-ROM drives at COMDEX in Las Vegas.
Computerworld Nov 26, 1984, p.40: link
1985
5
Digital Equipment Corporation announces a line of databases on CD-ROM. 12 databases will be produced in 1985 before DEC abandons the program in July 1986.
InfoWorld Jul 1, 1985, p.18:link
InfoWorld Jul 28, 1986. p.11: link
1985
7
Digital Equipment Corporation begins shipping its first CD-ROM drive. The $2,195 device hooks to MicroVAX I and II minicomputers.
InfoWorld Jul 1, 1985, p.18:link
1985
Spring
Sony produces CDU-1 prototype CD-ROM drive and provides it to universities and corporations for testing.
link
link
1985
During 1985, various publishers make over 50 databases available in CD-ROM format for corporate, university, and library customers. Examples include MEDLINE database and an electronic version of the King James Bible.
US Black Engineer (Autumn 1986): link
1985
Dire Straits' "Brothers in Arms," released this year. It will later become the first CD to sell 1 million copies.
link
1985
Comedy troupe Firesign Theatre's album "Eat or Be Eaten" is the first commercial CD to contain subcode CG+G graphics.
link
1985
CG Graphics (CD+G) standard formalized. CD+G allows low resolution still images to be stored on audio CDs and viewed with a special player. Due to its limitations, its appeal is limited mostly to karaoke discs.
Billboard Jun 8, 1985, p.80: link
1986
1
First commercial consumer CD-ROM software, "The Electronic Encyclopedia" by Grolier Electronic Publishing, Inc. It retails for $199.
US Black Engineer & IT Autumn 1986, p.49
1986
1
First commercial consumer CD-ROM drive, Philips CM 100 launched to OEM suppliers. It sells in a package with an IBM PC interface board, the drive itself, and a copy of The Electronic Encyclopedia for $1495.
link
InfoWorld Mar 31, 1986 – p.49 – link
1986
2
Sony and Philips announce preliminary CD-I standard.
PC Mag Apr 29, 1986, p.42: link
1986
6
The High Sierra Group defines a standard CD-ROM data structure so discs can be read across different operating systems.
Computerworld, Jun 23, 1986, p.12
1987
2
Philips and Sony announce work on a 3-inch CD single format (the CD-3) designed to replace 45 RPM vinyl singles. The format fails to catch on in the US and peters out by 1990, but it fares better in Asia and Europe.
Billboard Dec 26, 1987: link
1987
2
Philips announces CD Video (CD-V) discs at the annual NARM convention. These hybrid standard are capable of hosting 20 minutes of digital audio and 5 minutes LaserDisc-like analog video on the same disc 12 cm. Discs and players arrive later in the year.
Billboard Dec 26, 1987: link
Popular Science Nov 1987, p.50: link
1987
Video CD standard is introduced. It defines a means to store digital compressed video footage on a CD.
1987
Independent label Delos Records releases the first commercially available 3-inch CDs. 20 classical and Jazz discs.
link
link
1988
12
4
NEC PC Engine CD-ROM2, first video game console CD-ROM drive released in Japan. Attachment for NEC PC Engine console. Fighting Street and No-Ri-Ko are first CD-ROM video games, launched the same day.
link
link
1988
12
Annual CD unit sales exceed the sales of vinyl records for the first time. (CDs surpassed LPs in total revenue in 1987.)
link
link
1988
CD-ROM XA standard announced. An extension of the Yellow Book CD-ROM standard, this format specifies how audio, video, and computer data might share the same CD.
InfoWorld Jun 6, 1994, p.88: link
1989
2
Optical Media International introduces the Topix CD-R Spectrum System, a complete CD-R authoring system, for $150,000 in the US.
InfoWorld Feb 6, 1989, p.25: link
link
1989
5
Meridian Data, Inc. ships its first CD-R publishing system, the CD Professional. The complete CD authoring system debuts for $98,00 in the US. Blank discs are $100 a piece.
InfoWorld Mar 27, 1989: link
1989
Fall
Philips releases the first ever CD-I player, the CDI 180/181 set, for professional and industrial markets. At $2000-$3000, these two components (both required for the system to operate) form part of a modular system that includes a floppy disk expansion for CD-I authoring.
link
link
1989
The Manhole," the first personal computer game ever released in CD-ROM format, is published by Mediagenic for the Macintosh.
link
1990
2
Sony demonstrates desktop CD-R publishing system at Fifth International CD-ROM Conference. Promises a $30,000 price tag.
InfoWorld Apr 9, 1990, p.26: link
1990
4
Meridian Data, Inc. ships the first desktop CD-R publishing system, the VR Professional. The complete CD authoring system debuts for $52,500 in the US.
InfoWorld Apr 9, 1990, p.26: link
1990
8
1
NEC releases TurboGrafx-CD, a CD-ROM add on for the TurboGrafix-16 video game system. The $399.99 add-on is the first CD-based video game peripheral in the US.
1990
9
18
Kodak announces its Photo CD format, a new standard for storing digital photos on CD for view on TV sets or PCs.
St. Louis Post-Dispatch, September 19, 1990, p.5B: link
1990
Fall
Sony begins shipping its WORM CD-R production system for $30,290. The WORM discs retail for $30 a piece.
InfoWorld Aug 20, 1990, p.26: link
Computerworld Aug 6, 1990, p.25: link
1990
Philips and Sony publish the "Orange Book" CD standard that describes Write-Once (CD-WO or CD-R) and Magneto-Optical (CD-MO) recordable CD formats.
InfoWorld Jun 6, 1994, p.88: link
1991
3
The Frankfurt Group, an organization headed by Philips and Sony, announce the write-once CD-R (AKA Orange Book) format at the Conference and Exposition on Multimedia and CD-ROM in San Jose, CA.
InfoWorld Mar 25, 1991, p.8: link
1991
10
N.V. Philips introduces the first consumer CD-I player for the US market, the CDI 910. It retails for $699 at launch.
Popular Mechanics Dec 1991, p.80: link
1992
8
Kodak releases its first Photo CD player, the PCD-870 for $550. The player display color photos on a standard TV set.
link
link
1992
8
Kodak begins offering Photo CD processing service — "development" to Photo CD.
link
1992
9
14
The Macintosh Performa 600 is Apple's first computer to ship with an internal (2X) CD-ROM drive option. (It is not the first PC with an internal CD-ROM drive.)
Black Enterprise Apr 1993, p.41 link
1992
12
Annual CD sales in unit exceed the sales of compact cassettes for the first time.
link
link
1992
JVC releases the first 5.25″ half-height CD-R drive as part of an $11,000 CD authoring system.
link
1993
MP3 audio compression standard published (ISO/IEC 11172-3:1993).
1995
10
Hewlett Packard releases it 4020i CD-R Drive; at $995, it is the first CD-R burner to retail for under $1000. By late 2001, low-end CD-R drives sold for as little as $89.
link
PC Mag Jan 23, 1996, p.91: link
1995
CD Rewritable (CD-RW) standard added to Orange Book.
link
1996
11
First DVD Players released in Japan. Toshiba leads the pack with its SD-3000 player.
link
link
1997
4
21
WinAMP MP3 player launched, first release is version 0.20a.
link
1999
9
Super Audio CD format introduced. Allows higher-quality audio, more audio channels, and longer playing time than a standard CD. Fails in the market due to consumer interest in downloadable music.
link
2000
7
Sony and Philips announce double-density compact disc (DDCD) standard (or purple book). The new standard squeezes 1.3 GB of data onto a 12 cm disc using conventional CD laser wavelength by increasing the density of the data pits.
link
link
2000
18 years after the launch of the format, global sales of CDs peak at 2.455 billion units. It's all downhill from here.
link
2001
4
Sony introduces the first double-density compact disc (DDCD) drive, the Spressa CRX200E, for $249 in the US. The unit fits in a computer and burns DDCD-R and DDCD-RW discs that hold 1.3 GB of data.
link
link
2001
Sony, EMI, and Universal launch copy-protected audio CDs. The discs do not conform to Red Book audio standard. The most common copy control method works by confusing computers with false or masking CD-ROM data.
2004
US record companies introduce DualDisc, a 12 cm disc format that contains CD data on one side and DVD data on the other. The format lasts until 2009.
link
link
2005
11
Sony recalls copy protected CDs from market amid criticism for including a rootkit as part of its DRM technology.
link
2011
12
Annual music download sales, in revenue, exceed physical media (CD + LP) sales for the first time.
link