June 9th, 2017 by
Benj Edwards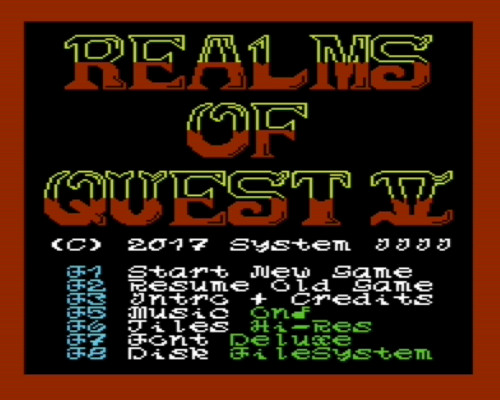 Last month, veteran Commodore VIC-20 developer Ghislain de Blois emailed me about his latest project, a turn-based RPG called Realms of Quest V.
He asked me to spread the word, and since I recently upgraded the WordPress installation for this site, it's actually easy for me to do so.
I have not tried it yet, but man — considering the limitations of the fairly anemic VIC-20, it looks pretty amazing. Here's what Ghislain had to say about it:
It's an RPG game that will span 4 disk sides.

Features:
-over 250 portrait graphics
-16 races and 16 classes
-music
-big world map four times greater than that featured in Realms III
-20 cities to explore with townspeople to talk to
-10 player characters allowed in party with an additional 10 spaces for non-player characters thus allowing a party size of 20 characters. This is an 8 bit RPG record.
-customizations: choose from 4 fonts and 2 graphical viewing modes.

I will hopefully be done in a few months. I've been working on this game every day since the beginning of February.
Ghislain says you can download the latest build of the game here, and that it requires 32K of RAM (which requires a plug-in accessory for the VIC-20): "To run it, you'll need a VIC-20 or VIC-20 emulator with 32K of expansion RAM. First file to boot should be RQ5.BOOT," he says.
Also, there is an active discussion thread going on about it over at Denial, a forum with a VIC-20 focus.
Until you play Realms yourself, here are a few more glorious screenshots to whet your whistle: