September 9th, 2019 by
Benj Edwards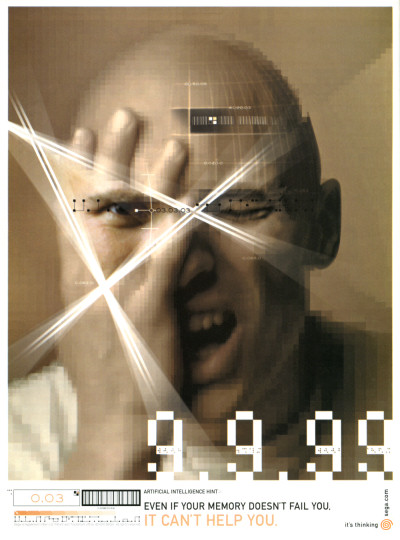 Gaming used to be very painful
On September 9, 1999, Sega launched the Dreamcast in America. This is one of its pre-launch print ads.
20 years later, I am still not sure exactly how to interpret this advertisement. The tagline in the corner seems the most obvious part. To me, "it's thinking," implied that the Dreamcast packed a powerful CPU and could generate complex gaming experiences.
But the screaming, eye-pain stuff? At the time, video game advertisement in the US leaned toward cryptic and edgy. This was drumming up interest for a launch date, so it threw in some mystery, not even naming the console itself.
But if taken literally, the ad makes it look like playing games on this upcoming console could be a painful or negative experience. Somehow marketers calculated that dark and painful imagery attracted American gamers. What this cultural masochism says about American gamers, I am not sure. That's a deep one to unravel.
I didn't like the ad much at the time. But I was hyped for the Dreamcast launch, so maybe it worked.
9.9.99
1999 was a big year for me. In June, I graduated high school and started my first full-time job. A month later, I moved out of my parents' house. I had money to burn, my own bank account, my own credit card. So I did what came naturally to an 18 year-old at the time: I bought a Sega Dreamcast. It was one of the highlights of my adult life — a symbol of independence.
The way I purchased the Dreamcast made it a notable experience. I ordered it from Amazon.com at a time when most customers still associated Amazon with book and CD sales. The firm had only recently expanded into selling "toys," which is how they categorized the Dreamcast at the time. Ordering a game console and having it arrive on your doorstep without leaving your house felt like magic.
I paid $199.95 for the console itself (about $306 today, adjusted for inflation), and I also bought a copy of Sonic Adventure, a VMU, and an extra controller. I splurged on next-day air shipping. The total cost was $343.60 (or $525.06 today), which was a huge load of cash to set down.
I must have saved up, because my credit card had a $200 limit at the time (no, it's not a typo — this was shortly before the insanely predatory credit card boom that got so many people in trouble).
A Breath of Fresh Air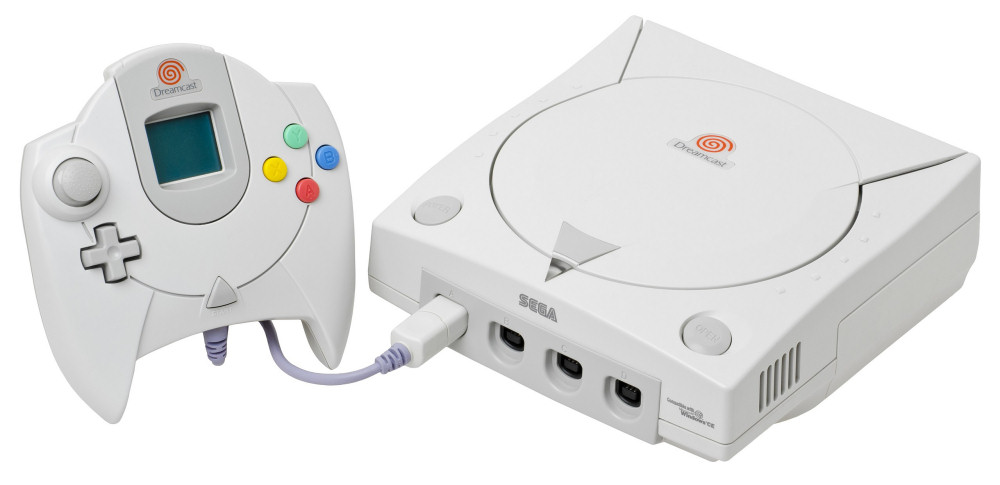 When the Dreamcast arrived, I rejoiced. It was every bit as polished, well-made and fun as I had read in EGM. Sonic Adventure satisfied and delighted. The console itself, compact and sleek with a built in modem, could dial-up and browse the web with an included CD. And those high-res graphics! Incredibly sleek. It was an amazing console experience for 1999.
What I love most about Sega's Dreamcast period (1999-2001) is that the firm's American branch allowed measured amounts Japanese quirkiness to make it overseas unfiltered and minimally localized. Sega crafted a cohesive look-and-feel that exuded creativity. With the Genesis and Saturn in the US, everything had been black on black, dark and edgy. The Dreamcast was white — a breath of fresh air — and had a playful name and a playful logo. The Japanese-developed games packed silly voices and Japanese arcade-style enthusiasm.
We even got Seaman in the US! A swimming fish with a man's head that you talked to through a microphone that plugged into the controller. How wacky and fun is that?
Among its most innovative and playful peripherals include the 56K modem, the controller (with its dual VMU slots), the VMU itself (with its tiny screen and integrated controller), the keyboard and mouse, the VGA adapter, the fishing controller, the microphone, the broadband adapter, and the DreamEye camera (Japan only).
These devices show a pattern of playful innovation that I still feel has not been matched in its density to this day (although the Wii comes close). It was the sheer scope of it all, delivered within less than two years, that still impresses me.
A Life Cut Short
And that's the most tragic part of the Dreamcast story. When Sega shut down production of the console in 2001, sales had been lagging, and Sega was losing money. But critical response was positive and consistent. The Dreamcast had fostered an incredible game library, and it bristled with untapped potential (both online and off). For fans of the console, we wanted more.
But fearing the intense juggernaut of Sony's massively successful PlayStation 2, Sega made a shrewd business decision and pulled the plug on the Dreamcast in March of 2001.
Never again would they make game console hardware, although I'm still holding out hope that they eventually change their mind — even if only to completely immerse myself in that unique, quirky Sega gaming culture once again.
[ From Electronic Gaming Monthly, September 1999, rear cover ]
Discussion Topic: What are your memories of the Sega Dreamcast launch? (Alternatively, your impressions the first time you played the Dreamcast)