December 17th, 2007 by
Benj Edwards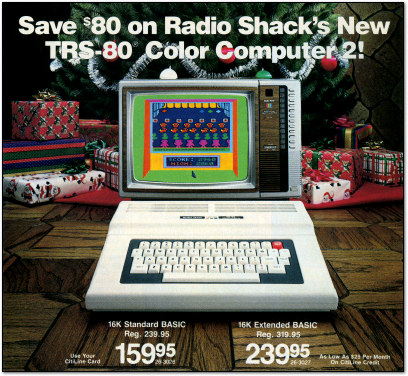 As a sequel to last year's "Very TRS-80 Christmas," we have this ad for the TRS-80 Color Computer 2. I'm not sure what makes this model "better" than the first Color Computer (CoCo), aside from obvious: different keyboard, ugly case-retooling, and perhaps more RAM.
Unfortunately, this unit ages to a nasty brown and its rubber-dome keyboard isn't much of an improvement (I still like the CoCo 1's keyboard better). But at least Tandy saw it fit to advertise the unit with a Christmas theme, which is quite relevant to the season at hand.
[ From Computers and Electronics, December 1983 ]
If you use this image on your site, please support "Retro Scan of the Week" by giving us obvious credit for the original scan and entry. Thanks.