December 12th, 2005 by
Benj Edwards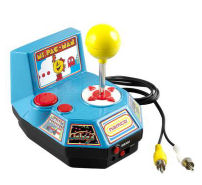 So far I am an owner of four "TV Games" units. I have the venerable Atari TV Games unit that looks like a vintage Atari 2600 joystick, the highly underrated and very hackable Commodore 64 30-in-1 unit, the Namco 5-in-1 unit (with Pac-Man, Galaxian, etc), and of course, the subject of this mini-review, Jakks Pacific's Namco TV Games – Ms. Pac-Man Collection unit. Sure, this thing has probably been reviewed to death by now, but I really wanted to share with you how cool I think this thing is. And being the picky vintage game enthusiast I am (as some might have noticed by my harsh NEX review), this is a miraculous thing.
Jakks Pacific got just about everything right with this unit. For starters, the console's presentation is appropriate for the casual player that is likely to buy it: nostalgic and fun. The price is pretty good too. The retail price of the Ms. Pac-Man Collection is probably about $25, but I paid $15, so I am happy. But the true beauty of this puppy comes when you install four AA batteries, hook it up to the RCA phono jacks on your TV and switch it on. The built-in game selection menu is professional and nicely done. It's easy to select from any of the five included games (Ms. Pac-Man, Pole Position, Galaga, Xevious, and Mappy Land) with the built-in joystick and buttons. The unit also has a really neat feature that is a drastic improvement from Jakks' earlier TV games: a pause button. And not only that, but when you press the pause button (labeled "Menu"), you are given a choice to either continue the current game or return to the main menu. Very professional, and very slick. Try taking a bathroom break from a game of Galaga in the arcade and you'll see why this is a good feature (of course, pause buttons have been standard on home consoles for years… oh well). Also, this unit has two regular play buttons instead of only one button found on earlier units, which allows for improved functionality on some games (like using it to shift gears in Pole Position). Interestingly enough, the feature of this console that I find the downright niftiest also seemed the most gimmicky to me before I tried it. I'm speaking of the "twist control" built into the joystick. That's right: for steering in Pole Position, you twist the joystick post itself left and right as if it were a tiny steering wheel. When you release it, it springs back to a center position. I was shocked when I tried it and learned how incredibly well it actually worked. It feels smooth and responsive, and allows for really nuanced and accurate control of your car in the game. It makes the experience of playing Pole Position at home actually fun for a change. Not to be forgotten is the regular 8-way joystick, which is also very responsive — although any time you throw diagonal controls into the mix, it makes Pac-Man games a little tricky. All the controls use microswitches for a more durable, clicky, and arcade-like feel than you'd expect in a $25 novelty game toy.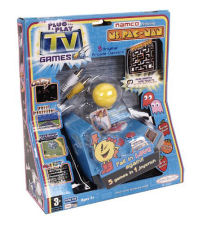 "That's great RedWolf, I'm glad you like the buttons. But what about the games?" I'm glad you asked, Reader Steve. The collection of games in this unit is excellent, save for perhaps the inclusion of Mappy Land, which I personally could live without. Obviously Jakks Pacific and Namco wanted to milk the market for all it's worth, separating the high-profile games into two different units (Pac-Man and Galaxian in one, Ms. Pac-Man and Galaga in another). If they replaced Mappy Land with Dig Dug, they would have made a much better collection (Xevious can stay — it adds refreshing gameplay variety, and Pac-Man and Ms. Pac Man are pretty similar anyway). The translations of the arcade games presented in this unit are near spot-on, with accurate sounds, graphics, and gameplay (as far as I can tell, anyway — I haven't exactly lived and breathed Mappy Land like I have Super Mario Bros., for example). The unit gets a huge thumbs-up in this category — the games are extremely playable and actually fun.
By far, the biggest opportunity for improvement of the Ms. Pac-Man Collection TV Games unit is the case design. A more ergonomic controller scheme that's more comfortable in your hands would put this unit one step closer to perfection. As it is, my hands start to get really sore after even a few minutes of gripping the bulky, sharp-angled case. But such sweet pain it is.
As a final note, it occurred to me at some point while playing Galaga that this tiny $25 console would make an excellent basis for a dedicated, home-made arcade machine. Who needs a $2000 MAME rig or a $3000 Ms. Pac Man / Galaga machine when you could hack some real arcade controls to this box, stick it in a cabinet with a 20″ TV and have a damn good recreation of the arcade for a lot less? After a little bit of poking on the net, I found that someone else had the same idea and acted on it. I might just have to do that myself some day. If I do, I'll be sure to let VC&G readers know about it. 🙂
The Skinny: Namco TV Games – Ms. Pac-Man Collection (Jakks Pacific)
Good Features:
Good game selection that's fun, varied, and faithful to the arcade. Great interface. Pause feature. Microswitch controls. Twist-controller kicks ass. Easy to set up.
Bad Features:
Harshly-angled, anti-ergonomic case design cramps your hands after a while. Game selection could be better, with more and/or better games included.
VC Rating:
(10 Being Best)
[ 8 out of 10 ] Extreme Super Rating Units