February 25th, 2008 by
Benj Edwards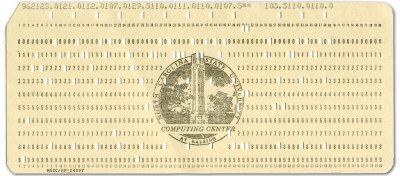 I found this wonderfully stamped card in an old, metal, 20-drawer punch card filing cabinet that I bought from a N.C. State University surplus sale late last year. Actually, it was one of many hundreds of such cards, most of which were rubber-banded together in program stacks for the psychology department.
I'm no expert on punch card-era computers, so I'll let the more knowledgeable amongst us do the talking. It's a great piece of history, though. I'm currently using the card cabinet as a tool chest.
If you use this image on your site, please support "Retro Scan of the Week" by giving us obvious credit for the original scan and entry. Thanks.