February 20th, 2008 by
Benj Edwards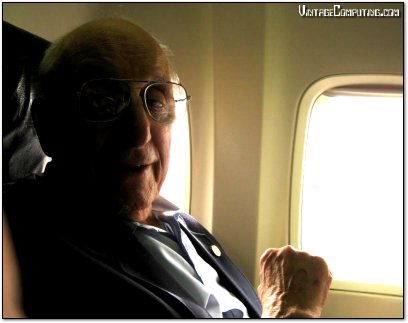 Benj here reporting from my secret base-like hotel room in rainy San Francisco, CA. My grueling 14 hours of travel time today (from the first airport to the hotel) paid off with an unusual and fortuitous coincidence. During my five hour connecting flight from Chicago to SFO, I sat next to none other than the Father of Video Games, Ralph Baer.
I was planning on meeting up with Ralph at GDC, but I didn't know he'd be on the same flight as me (he'd come in from New Hampshire). Normally one is wary of whom one might be stuck sitting next to for a long flight. But thanks to Ralph and a nice fella named Jason Graves (a composer, also heading to GDC), I had my most enjoyable flight ever.
Expect more from me after I actually attend the show. For now, I'm tired. Time to hit the sack.