May 26th, 2008 by
Benj Edwards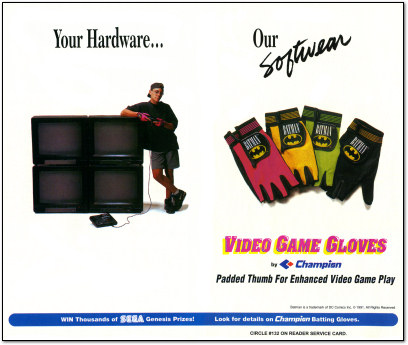 No more blisters for Batman.
No serious gamer should be without a pair of batting Video Game Gloves by Champion. Without the extra padding they provide, your hands can get chapped, cramped, and blistered while pushing it to the next level! These gnarly gloves even provide a padded thumb sleeve for enhanced video game play.
If that weren't enough, it's clear that Batman himself uses these gloves while gaming.
"Robin, pass me the Bat Gloves."
[ From Video Games and Computer Entertainment, November 1992 ]
Discussion topic of the week: Have you ever injured your fingers, hands, or wrists playing video games?
If you use this image on your site, please support "Retro Scan of the Week" by giving us obvious credit for the original scan and entry. Thanks.