November 10th, 2008 by
Benj Edwards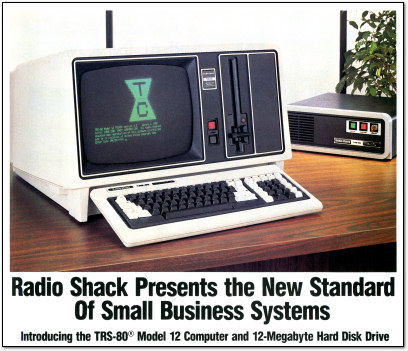 (click for full advertisement)
I actually have a TRS-80 Model 12, although I don't have a hard drive for it. I bought it at a flea market back in 2000-2001 for $20. It had been used for corporate accounting, payroll, spreadsheets, etc. for some years, and it came with a bunch of 8-inch disks and a huge dot-matrix printer. Sadly, the 8-inch drives on my unit both failed some years ago, although not before I got a chance to load up BASIC and tinker around with a spreadsheet. I haven't gotten around to fixing them yet, but I'll probably give it a shot some day.
[ From Popular Computing, March 1983 ]
Discussion topic of the week: Here's a good one: How many of you readers out there have used systems with 8-inch floppy disks? If you have, tell us about the computer and your 8-inch floppy stories.
If you use this image on your site, please support "Retro Scan of the Week" by giving us obvious credit for the original scan and entry. Thanks.