November 3rd, 2009 by
Benj Edwards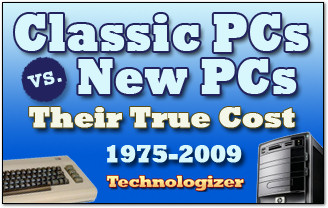 Amongst all the heady VC&G anniversary festivities (I've been to five parties this week alone*), I almost forgot to tell you about a new VC&G-related article that popped up last week on Technologizer. It's by a guy named Benj Edwards, which probably explains why I'm writing about it here.
For my latest Technologizer article, Classic PCs vs. New PCs, I selected six vintage personal computers from yesteryear and figured out what you could buy today for the same price. And we're not talking original retail price here; I took inflation into account.
For example, the Commodore 64 — once considered a low-cost home computer — originally sold for the equivalent of $1,331.62 in 2009 dollars. Today you can get quite a bit for that much money. How much? That's what we're going to find out.
* Five all-nude FORTRAN coding jamborees, invitational