February 13th, 2006 by
Benj Edwards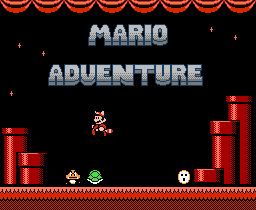 Just yesterday I had the opportunity to conduct an email interview DahrkDaiz, creator of the impressive hack Mario Adventure. Mario Adventure is a completely new Mario game made from modifications to the Super Mario Bros. 3 game engine for the NES. The game was the subject of a recent piece on VC&G and has proven to be quite popular now that it has been given wider attention on our site.
Vintage Computing and Gaming: Thank you for agreeing to this interview. First off, where are you from?
DahrkDaiz: Knoxville, Tennessee
VC&G: What do you do for a living?
DD: I'm currently a student at ITT-Tech and working full time at a fast food restaurant.
VC&G: Do you aspire to be a professional game designer?
DD: I hope so one day but in reality I know game design is a tough field to crack, so I'll continue to pursue the dream in my spare time while focusing on a realistic programming career, working for businesses to make a living.
VC&G: What's your favorite video game? Favorite Mario game?
DD: A tie between Sonic 3 & Knuckles and SMB3. [Favorite Mario Game:] SMB3, no surprise there.
VC&G: What inspired you to make Mario Adventure?
DD: The total lack of a proper Mario sequel. I was disappointed with the Mario Advance series and I saw other people's attempt at creating a new SMB3 experience and decided to take the matter into my own hands.
VC&G: Mario Adventure has been very popular on VC&G. It been downloaded over 11,000 times from our site in the last few days. Is there anything you'd like the players of Mario Adventure to know or keep in mind while playing?
DD: This hack was made with the hardcore SMB3 player in mind. I could practically beat the original with my eyes closed and figured it was time to up the difficulty. However, I tried to include ways to pass hard obstacles easily. Use your power-ups to their fullest abilities and you should do fine getting through the game.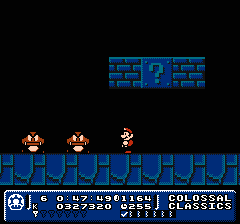 VC&G: What's your favorite new feature of Mario Adventure? Also, what's your favorite world in the game?
DD: Definitely the key collecting idea. I always liked having to back track through levels or world to get something out of the way to continue in a game. Point A to point B grows old quickly. [Favorite World:] Colossal Classics. The giant nostalgic look just has something about it that pleases me. Though I thought I could have a slightly better job with it.
VC&G: What development tools did you use to create Mario Adventure?
DD: FCEUd (emulator with an excellent debugger), YY-Chr (graphics editing), Mario 3 Improvement (archaic SMB3 level editor), Hex Workshop (hex editor).
VC&G: How long did it take you to complete Mario Adventuree?
DD: Approximately 16 months.
VC&G: Was reverse engineering the Super Mario Bros. 3 Game engine and implementing new rules, power-ups, etc. difficult? Tell us more about how you made changes to the Super Mario Bros. 3 game itself.
DD: At first it was very difficult. I slowly began to see a certain logic used behind the game. However, when reprogramming the code, I had to find unused space in the ROM, so that was pretty much hit and miss. Admittedly I did a poor job at coding it, hence all the bugs and glitches, but I did what I could with what knowledge I knew. A lot of time stepping through code and even writing code out on paper while at work during my break was required.
VC&G: Did you do all the level design in Mario Adventure yourself?
DD: Absolutely everything was done by me in this.
VC&G: Do you think Mario Adventure would work properly if somehow put on an actual hardware cartridge and played on a real NES/Famicom? Have you ever attempted this?
DD: Unfortunately, it will not. I reprogrammed the game to take advantage of a bug most emulators have, however, I did not realize at the time that it was a bug. The hack would work on a real NES, but not properly all time. The main bug being the status bar moving up over the screen at certain times.
VC&G: Have you ever heard from Nintendo about your Mario hacking exploits?
DD: Surprisingly, no.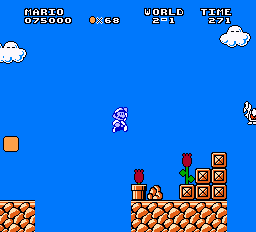 VC&G: Have you done any previous game hacking projects? If so, tell us about them.
DD: Before Mario Adventure? No, but there were a few things I did while working on Mario Adventure and afterwards. Most of it is unknown unfinished test projects. I created a cool parallax (SNES style) background scroll in Mega Man 3 for Snake Man's stage. I hacked Castlevania 3 to start and stay as Alucard. I completely hacked Ms. Pac-Man to have 32 unique levels, a mode to play levels at random and a pellet counter. This hack is known as Pac-Man 3 and will be available on my site once it relaunches.
VC&G: What can you tell us about your next hacking project? When will it be ready?
DD: I can tell you now the next big project is another SMB3 hack. Most people may sigh at this, but I took a different approach with this hack and differs from Mario Adventure. The scale is that, if not more than Mario Adventure. It makes Luigi and Mario be separate characters with each having special powers of their own for different gameplay, including Luigi's floaty jump and slippery control and a new item box for Mario found in Mario Adventure. Each character has their own separate 8 worlds to play through, so this is literally two hacks in one. It's like nothing you've ever seen.
VC&G: Is there anything else that you'd like our readers to know?
DD: Mario Adventure is a real gem, but I've listened to a lot of good and bad feedback on it and this new project I'm working on addresses those issues. But I like to thank everyone who's played this hack and given so much praise for it. It's really inspired me to take game development as a serious career.