December 6th, 2010 by
Benj Edwards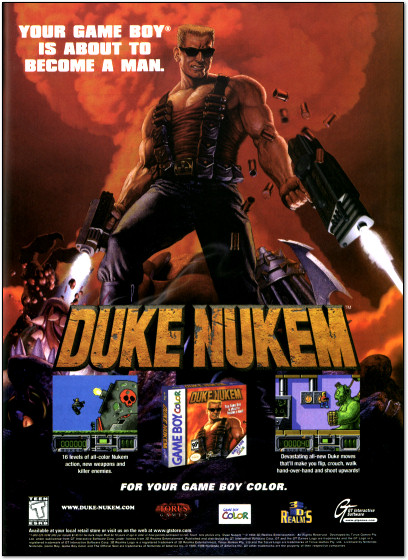 "Your Game Boy is about to become a man."
While I've been a fan of Duke Nukem since his initial shareware debut in 1991, I've never played this 2D platformer for the Game Boy Color. It arrived relatively fresh on the heels of the mega-success that was Duke Nukem 3D in 1996, along with a handful of other spin-off titles for various game consoles.
The true sequel to Duke Nukem 3D, Duke Nukem Forever, is supposedly coming soon (after 14 years in development hell), and I look forward to playing that when it arrives.
By the way — if you like Duke Nukem, you may enjoy reading this interview of 3D Realms founder and president Scott Miller that I did last year.
[ From Electronic Gaming Monthly, September 1999, p.37 ]
Discussion Topic of the Week: Which is the better game: Doom, Duke Nukem 3D, or Quake? (Not just technologically speaking, but based on the overall experience.)