May 16th, 2011 by
Benj Edwards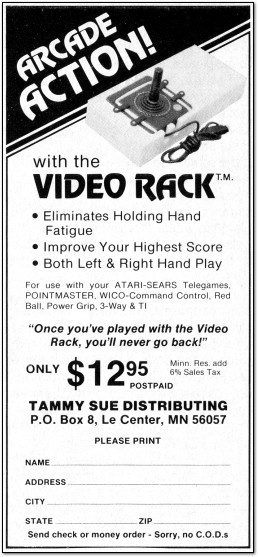 Oh Tammy Sue, How I Adore You
How do you make a handheld controller into a non-handheld controller? By strapping on a giant block of unwieldy plastic, of course.
The Stick Station (subject of a RSOTW in 2006) achieved the same feat by using a large poplar board. The result was far more stylish than the Video Rack, but equally useless.
While there may be a handful of games that benefit from an immovable joystick base (like an arcade machine), they're in such a minority that they don't warrant a special peripheral. I back up this observation by the fact that the Video Rack and Stick Station are exceedingly rare peripherals. If everybody had wanted one, they'd be common today.
There is one one notable case, however, where a joystick stabilizer really helps. Atari shipped a special dual-joystick mount with every copy of Robotron 2084 for the Atari 8-bit computer line. I have one, and it is awesome.
[ From Electronic Games, December 1983 ]
Discussion Topic of the Week: In your opinion, what video games would benefit from using the Video Rack?