June 13th, 2011 by
Benj Edwards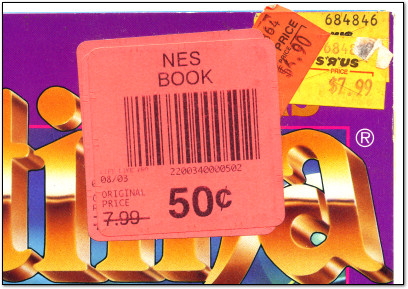 Retail price? $7.99. For you? Fifty cents.
In the early-mid 1990s, I regularly made trips to Toys 'R' Us to pick through their video game clearance section. It was then that I built up the foundations of my fast-growing vintage game collection.
I had a blast when they started clearing out their NES items — for example, I picked up Kirby's Adventure for $10 and a whole bunch of unopened NES accessories like controllers and cleaning kits from that time for a mere pittance (I still have about four new-in-box NES Advantages from that time that I bought for $2 a piece). This is the same place where I bought the Virtual Boy and Sega 32X new in their boxes for about $30 a piece. Man, those were the days.
One day while browsing the store's video game strategy guide rack, I noticed this forlorn and chronically passed-over hint book for Ultima: Exodus, a poorly received port of the PC classic Ultima III for the Nintendo Entertainment System. The copyright date in the back said 1989, and by the look of the discount stickers on the front, it appeared the booklet had been sitting on the shelf since that time. After five years of neglect, its cover had become scuffed, dirty, and mysteriously ink-stained on one corner.
The book's binding was off-kilter when I bought it for the low low price of 50-cents, which may be why consumers passed it up in favor of non-defective printings of the same book. On the other hand, they may have simply passed it up because the associated game wasn't too popular.
[ From Ultima Exodus Hint Book, 1989, cover ]
Discussion Topic of the Week: When's the last time you bought a physical paper hint book for a video game?