January 25th, 2013 by
Benj Edwards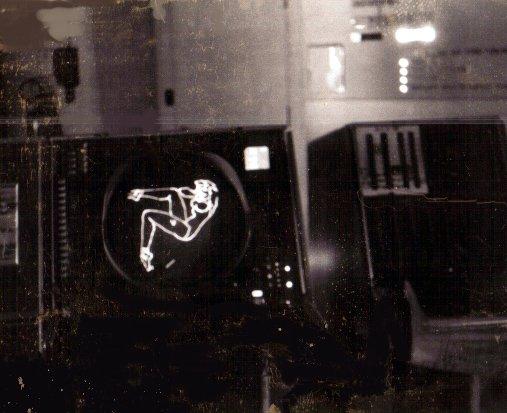 Thirty-five thousand years ago, when massive beasts still roamed the earth, an early modern human carved the figure of a sexually robust woman into a piece of woolly mammoth tusk, creating the earliest known figurative artwork. During a time of almost certain hardship and scarcity, when acquiring that tusk involved slaying an animal 100 times one's weight, the artist devoted countless hours to create a sculpture that idolized nothing less than sex itself.
35 millennia later, during a time when computing power was so scarce that it required a government defense budget to finance it, a late modern human utilized a $238 million military computer, the largest such machine ever built, to render an image of a sexually robust woman on a glowing cathode ray tube screen. The year was 1956, and its creation was a landmark moment in computer graphics and cultural history that has gone unnoticed until now.
You can read the full story I wrote about this landmark piece of digital art over at The Atlantic. I'd like to personally thank Lawrence Tipton, Robert Martina, and all of the SAGE veterans who helped me research this piece.