January 25th, 2013 by
Benj Edwards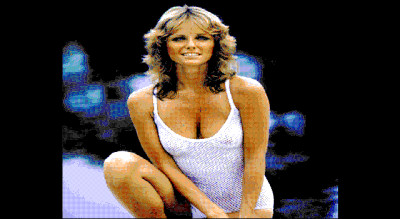 Click to see other views of this image: [ Original Size ] [ 2X Zoom ] [ 4:3 Ratio ]
I've always thought of VC&G as sort of a family friendly blog, so I don't plan on delving into adult GIFs any time soon. But we might as well talk about bikini photos, because they were some of the most heavily traded GIF images in the BBS days. They provided culturally acceptable PG- or PG-13-level titillation, and male teenagers (arguably the primary users of BBS systems in many areas) flocked to them.
Just recently, I searched my GIF archives for the oldest GIF format bikini photo I could find. I came up with this image of Cheryl Tiegs in a file dated October 29th, 1987, which is only four months after the June 15, 1987 publication date of the first GIF specification (GIF87a, for those keeping track).
The image itself is derived from a photo taken by Walter Iooss Jr. for the 1978 Sports Illustrated Swimsuit Issue. The sharpness of the image suggests to me that it was scanned (vs. video captured), either with a flatbed or handheld color scanner, and likely from that issue itself.
I don't know who scanned it. It could have been Jim Maxey, who originated many GIF files in the format's early days, but since the image isn't tagged with his BBS information, I doubt it. Maxey also tended to work with video capture boards verses scanners at that time.
Regardless of who created this image, it's a nice, relatively tame example of 16-color EGA bikini art. Upon viewing it, you can almost feel its 1970s girl-next-door wholesomeness flowing out of your computer screen. And that's despite her see-through fishnet bathing suit, which was scandalous in 1978.
(Note that Tiegs' name is misspelled in the file name as "TEIGS")
[ Wondering what a GIF is? Read the introduction to this column. ]
Retro GIF of the Week Fact Box
Source File Name:
TEIGS.GIF
Source File Date:
October 29, 1987

Source File Format:
GIF – 87a (non-interlaced)
Dimensions:
640 x 350 pixels (EGA)
Color Depth:
4-bit (16 color)
Origin Platform:
IBM PC
Derived From:
Scanned photograph taken by Walter Iooss Jr.
Creation Date:
1987
Artist:
Unknown
If you know more about the origin of this image, please leave a comment.