Friday, January 12th, 2007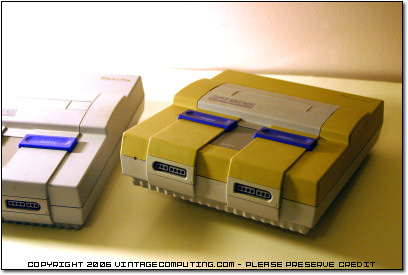 Sure, consoles age and get dirty. Heck, I remember a suspicious incident involving my Super Nintendo (SNES) console and a can of Coca-Cola in the early '90s that left my SNES looking more like a moldy loaf of bread than a video game system. But around five years ago, I noticed that my SNES console was aging particularly badly. I cleaned off all the remnants of fossilized Coke residue from the chassis with a wet washcloth, but the "moldy bread" look still remained. The top half of the console's plastic body retained a uniformly nasty yellow-brown hue, while the bottom half flaunted its showroom shine — that native SNES gray that we all know and love. I soon realized that a much deeper mechanism was responsible for the aesthetic disfigurement of my beloved SNES than mere dirt and sugar.
To further complicate matters, I have another SNES unit that was obviously produced more recently than my original one, and that console shows no sign of aging whatsoever. Comparing the units and the way different parts of them had discolored led me to believe that there is something different about the two batches of plastics — the one for the top half of the SNES chassis and the one for the bottom, or the plastic for the old unit and plastic for the new — that made them age differently over time.
Immediately below are two photos I took of my actual SNES units. Notice the difference between the colors of the top and bottom halves of the plastic chassis on the older unit, and also how the newer unit shows no sign of discoloration at all.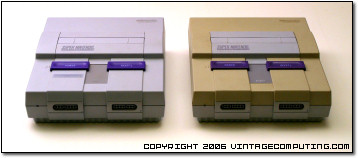 My first SNES console (right) exhibits discoloration on the top half only.
The newer unit on the left, however, looks as good as new.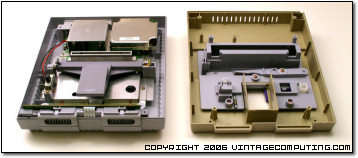 The top half and bottom half of my first SNES console, disassembled.
Notice that the underside is yellowed with the same uniformity as the top.
[ Continue reading Why Super Nintendos Lose Their Color: Plastic Discoloration in Classic Machines » ]