Monday, March 18th, 2013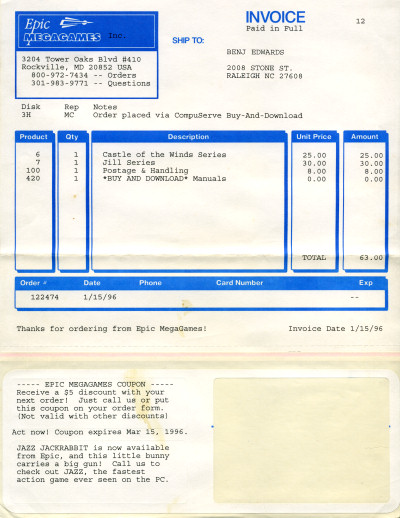 Epic MegaGames purchase invoice in January 1996.
You're looking at a rare physical artifact from the twilight of shareware's golden age.
Way back in 1996, when Gears of War maker Epic Games still went by "Epic MegaGames," I ordered a few registered copies of its shareware games through CompuServe.
Since it was a special buy-and-download deal (very unusual in 1996), I didn't receive copies of the games themselves on disk. Instead, Epic mailed an invoice, copies of the games' instruction manuals (which have been displaced from this set, or else I would have scanned them too) and a shareware demo disk from Epic partner Safari Software.
[ Continue reading [ Retro Scan Special ] Buying from Epic Games in 1996 » ]