Wednesday, January 18th, 2017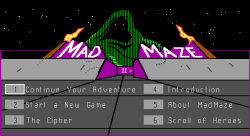 Since 2013, I've been hosting a web-based recreation of the classic Prodigy online service game called "MadMaze" on the VC&G webserver.
(You can read the backstory about that here.)
The only problem with this "modern" version of the game, called MadMaze-II by its late author, Russell Brown, is that it only worked in Internet Explorer. This re-creation was developed in 2001 at a time when Internet Explorer was the browser of choice for many.
Well, thanks to the help of a web developer named Brandt Horrocks, the game now works in Chrome and Firefox. In Chrome, it seems to work nearly perfectly, although it does not support the sound effects Brown originally implemented in the game (yet). In Firefox, the game is playable, but the introduction renders slightly differently.
The game is still at its original VC&G address, https://www.vintagecomputing.com/madmaze/, so give it a shot and see what you think. Feel free to leave feedback in the comments here, and I will show them to Brandt, who may be able to do more bug fixes in the future.
—
See Also:

Bringing Prodigy Back From The Dead: The Prodigy Restoration Project (2014)
MadMaze-II Now Hosted on Vintagecomputing.com (2013)
Prodigy Lives! Play MadMaze On the Web (2006)