August 12th, 2011 by
Benj Edwards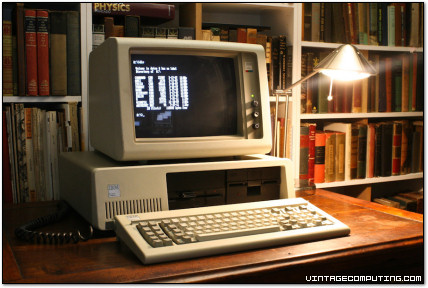 If you haven't heard by now, the IBM PC platforms turned 30 years old today. On August 12th, 1981, IBM announced its new PC, the 5150, at a press conference in New York. It was a big deal then, and it's an even bigger deal now. For the last 30 years, most of us have been using computers descended from a standard set in motion 30 years ago.
To celebrate this momentous anniversary, I've put together a few articles for PC World and Technologizer. The first is titled, "Can You Do Real Work With the 30-Year-Old IBM 5150?" A few weeks ago, I locked myself in a room with a vintage IBM PC 5150 to see if I could use it for real, modern computing work. That article spells out the results.
The second is something more predictable: IBM PC Oddities over at Technologizer. It's the latest in my Oddities series of interesting and bizarre trivia slideshows for that site. If you've ever used a PC, you should enjoy it.
Then there's the stuff at VC&G. I just posted a few thoughts on the IBM PC's anniversary and an essay on history's treatment of the IBM PC, and on Monday I posted a new Retro Scan of the Week that features a 1982 IBM PC ad. In turn, that Retro Scan post lists previous Retro Scan entries that deal with the PC.
Happy Birthday, IBM PC!